In this article, you will find the way to change your subscription plan, payment method, remove or add your credit card.
Your ROUVY subscription is auto-renewed until canceled.
To learn more about subscription types ROUVY offers, or how to purchase a subscription, please take a look here.
You can also take a look at our short video tutorial on how to change your subscription or payment method here.
Change Your Subscription Plan
You can change your subscription both ways: from a short-term to a long-term subscription and vice versa.
Our general rule is that when you change the subscription plan before it expires, the remaining credits of the previous plan are deducted from the new plan's price.
Please note: external subscription (iTunes and Google Play) allows for 1-month subscription plans only.
If you want to change the subscription plan that was purchased through iTunes or Google Play, please, read more about your case in this section. You can migrate your subscription in case of iTunes, and you have to cancel and repurchase in case of Google Play.
All ROUVY pricing plans purchased via the ROUVY website are connected to your user account. You can log into your ROUVY account and manage the subscription:
First, please LOG IN into your USER PROFILE on ROUVY.com.

Go to the SUBSCRIPTION section.

Select MANAGE SUBSCRIPTION as shown below:
Continue by clicking on the green button with your current plan.
You will see a drop-down menu with subscription options.
Select your new desired subscription plan, you will see some additional information just below it.

Then click green UPDATE SUBSCRIPTION button.
Your new subscription plan is active immediately.
If you change your long-term plan into a 1-month play, the remaining days from the previous plan will be transferred to credits, which will be used for future payments.
You can see the remaining amount in the invoice that you will receive in the email: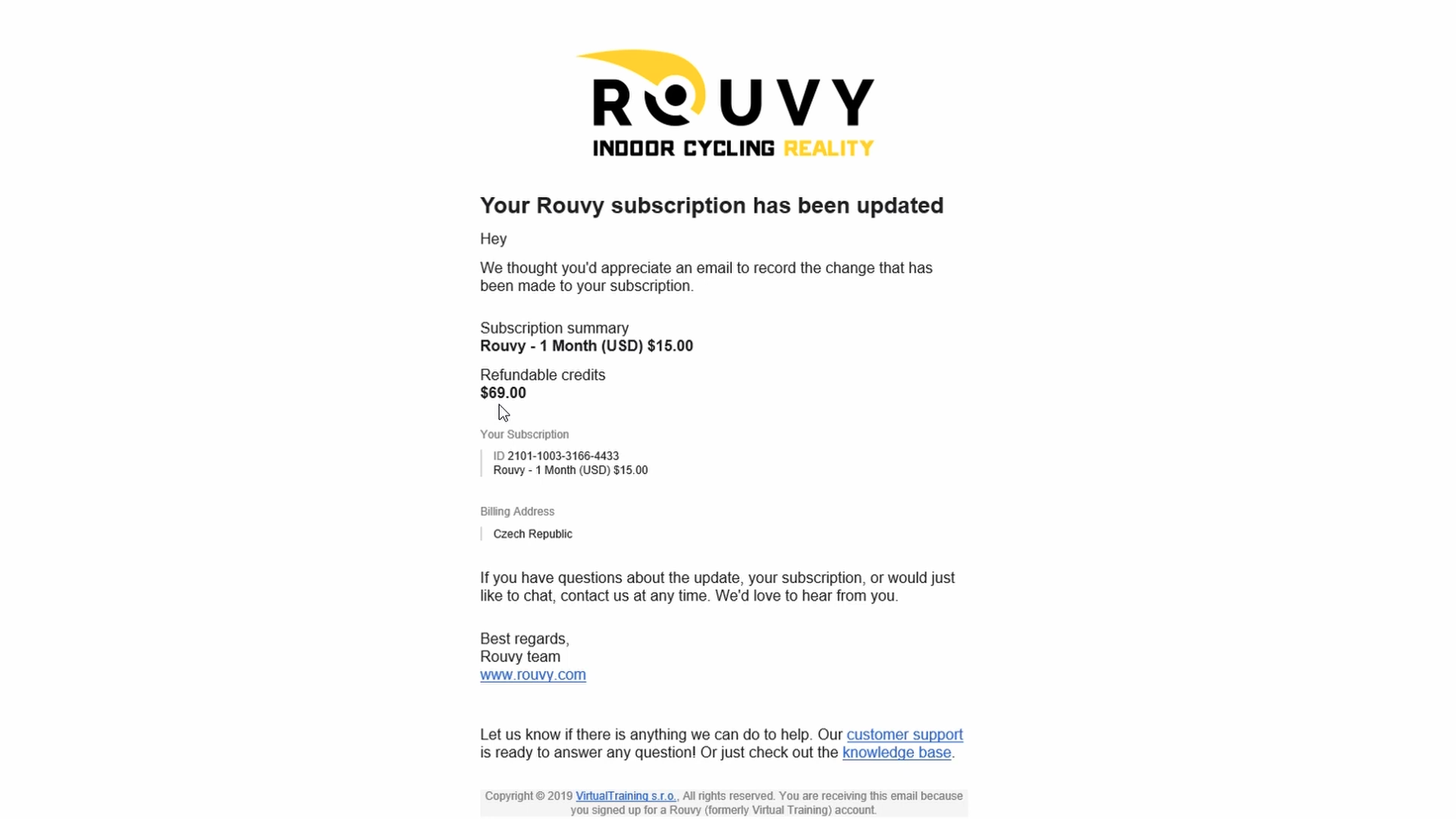 Change Your Payment Method
Please note: the following steps are valid only if you've purchased your subscription directly through ROUVY website.
In case of iTunes/ Google Play subscription, you need to make changes in your iTunes/ Google Play account.
In order to update your payment details:
LOG IN to your USER PROFILE on ROUVY.com.
Go to the SUBSCRIPTION section.
Select MANAGE SUBSCRIPTION, as shown below:
then click on EDIT SUBSCRIPTION DETAILS, then SUBSCRIPTION DETAILS.
You will see your current subscription details. Here you can set one of your existing payment methods as default, or remove it.
To add another card:
then click ADD NEW to add a new payment method.
After you've entered all the details of the card, don't forget to mark the new card as your PRIMARY payment method.
Please note: when you add a new payment method, your credit card must be verified.
This process is linked with a $1/€1 transaction, however, you are not charged with the amount.
The gateway makes this transaction to the bank - the bank forces the user to perform additional verification - and then the transaction is voided.
Remove your card:
First, please LOG IN to your USER PROFILE on rouvy.com. Then:
please go to the SUBSCRIPTION section,
find MANAGE SUBSCRIPTION link,
then click on EDIT SUBSCRIPTION DETAILS as shown below,
click on PAYMENT METHODS,
click on the card you want to remove,
and finally click on REMOVE PAYMENT METHOD link. The card you've chosen is now removed from your payment methods.
Something else subscription-related does not work?
Feel free to contact us, we are here to help.