ROUVY introduces a new way to personalize your AVATAR to represent you perfectly.
With ROUVY Avatar Customization, you can change virtually every part of your Avatar's clothes and gear to make them suit your taste and style.
What is more, you will be rewarded with specific cycling gear for your effort: complete the tasks in the FREE TRIAL PERIOD Challenge, and receive a unique preset as a reward!
For more information take a look at our Challenges and Free Trial Period articles.

Starting from ROUVY App 2.28.0 you can spend your earned Coins on tuning your bike frame!
More info is in this section.


How Do I Turn On the Feature?
The feature will be available for all users who have downloaded the newest version of the app.
No need to do anything else.
Everybody will get some options to start customizing their Avatars immediately.
Please note:
This new feature will not affect any apparel you already have for your avatar. All the previous clothes and gear will still be available.
Where Do I Find Avatar Customization in the App?
Starting with the ROUVY App version 2.23.0 and newer, AVATAR Customization is available for everyone by clicking on your name on top of the app DASHBOARD first, and then by clicking the Avatar Customization button under your 3D Avatar: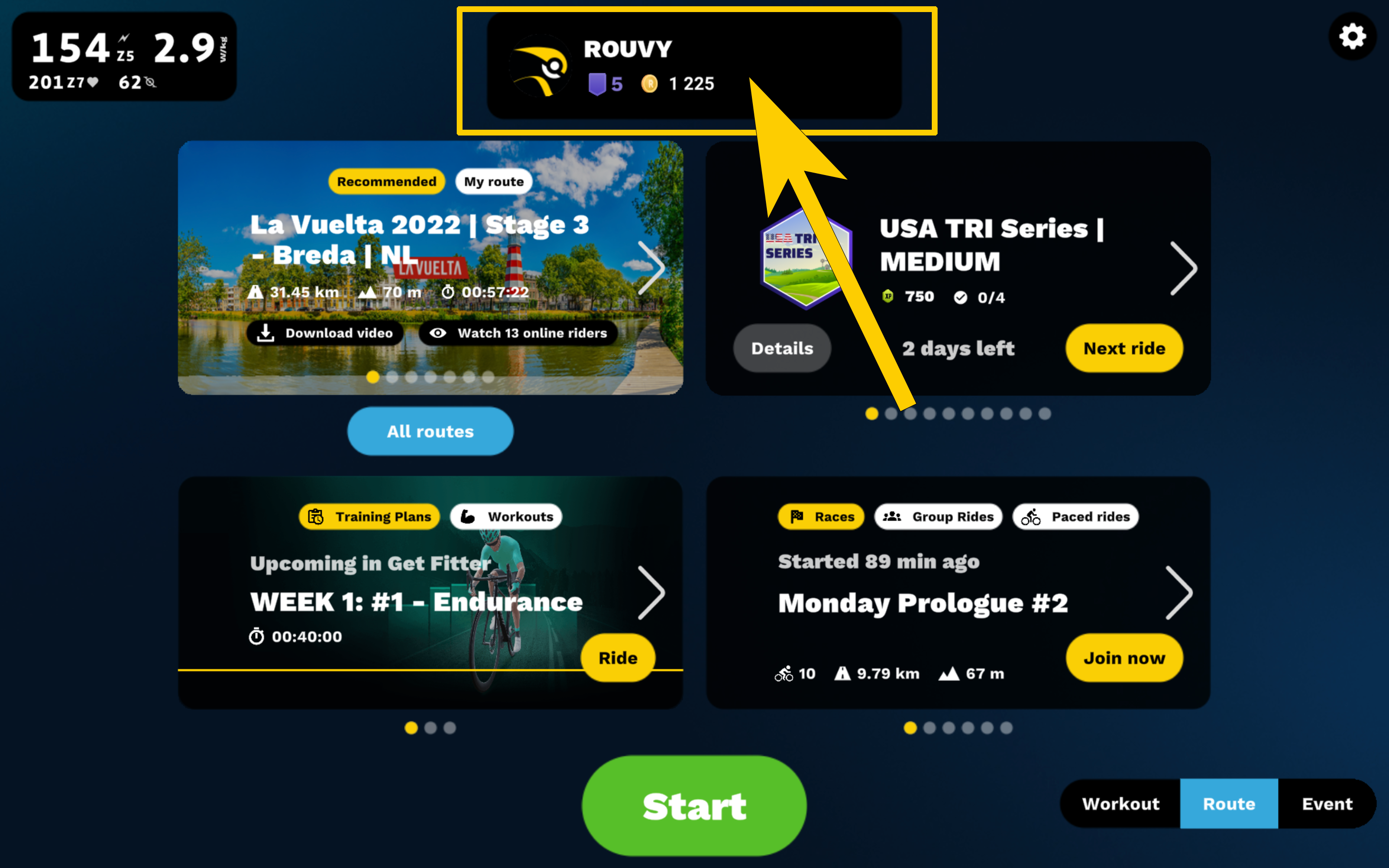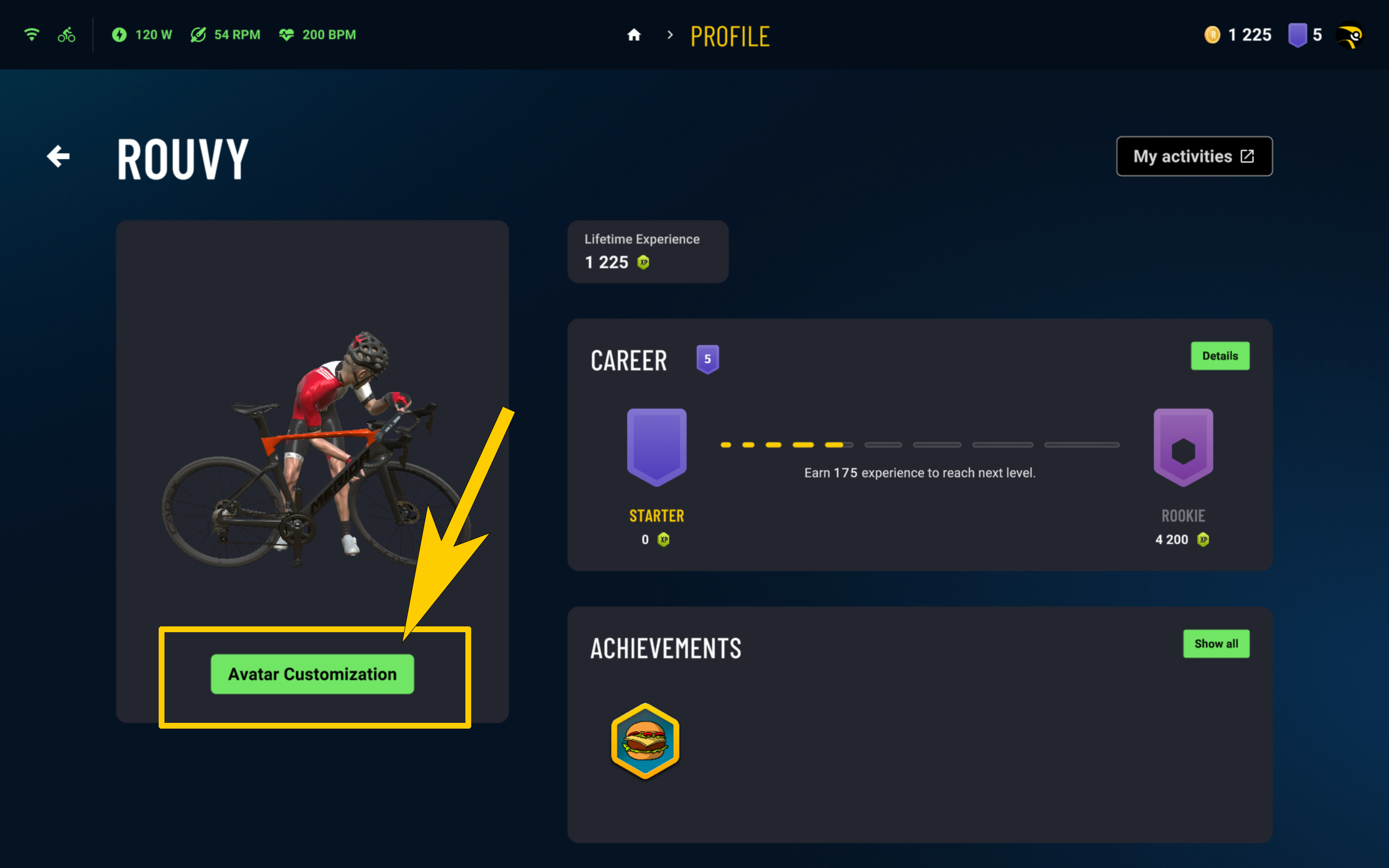 What Exactly Can I Customize?
You can now customize
your Avatar's appearance (including your Avatar's gender),
your cycling apparel, including the accessories, such as helmet, shoes, gloves, socks, and glasses,
your Avatar's bike,
you can also choose not to wear glasses and watch.
How Do I Customize My Avatar?
To customize your Avatar, you need to choose your PRESET first.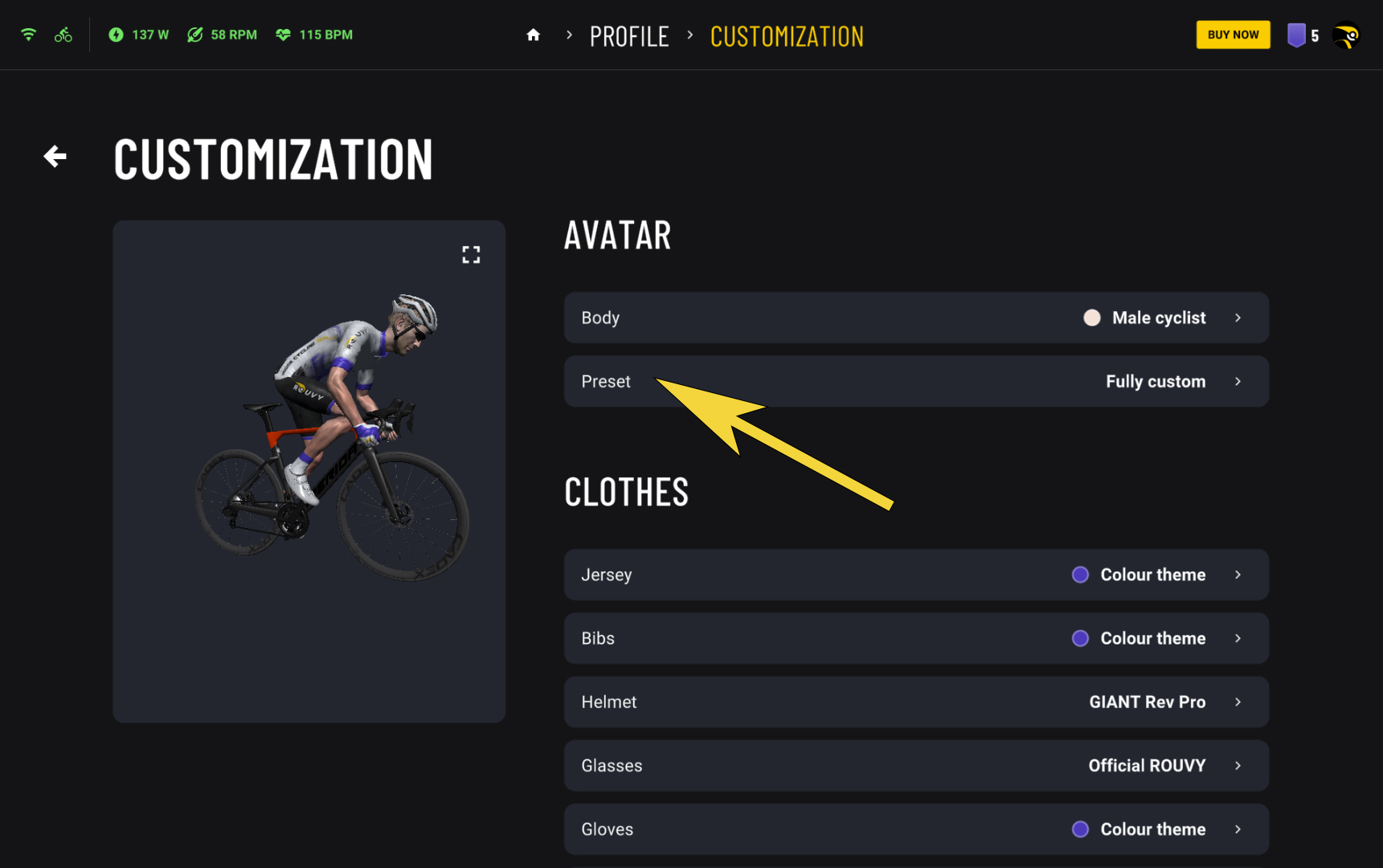 Preset is an already-made set of clothes and accessories to help you start customizing your Avatar.
You can choose:
a Fully custom preset where you will be able to customize every part of the outfit;
all the other presets where you can partially customize your look.
Each preset is described directly in the app to help you out.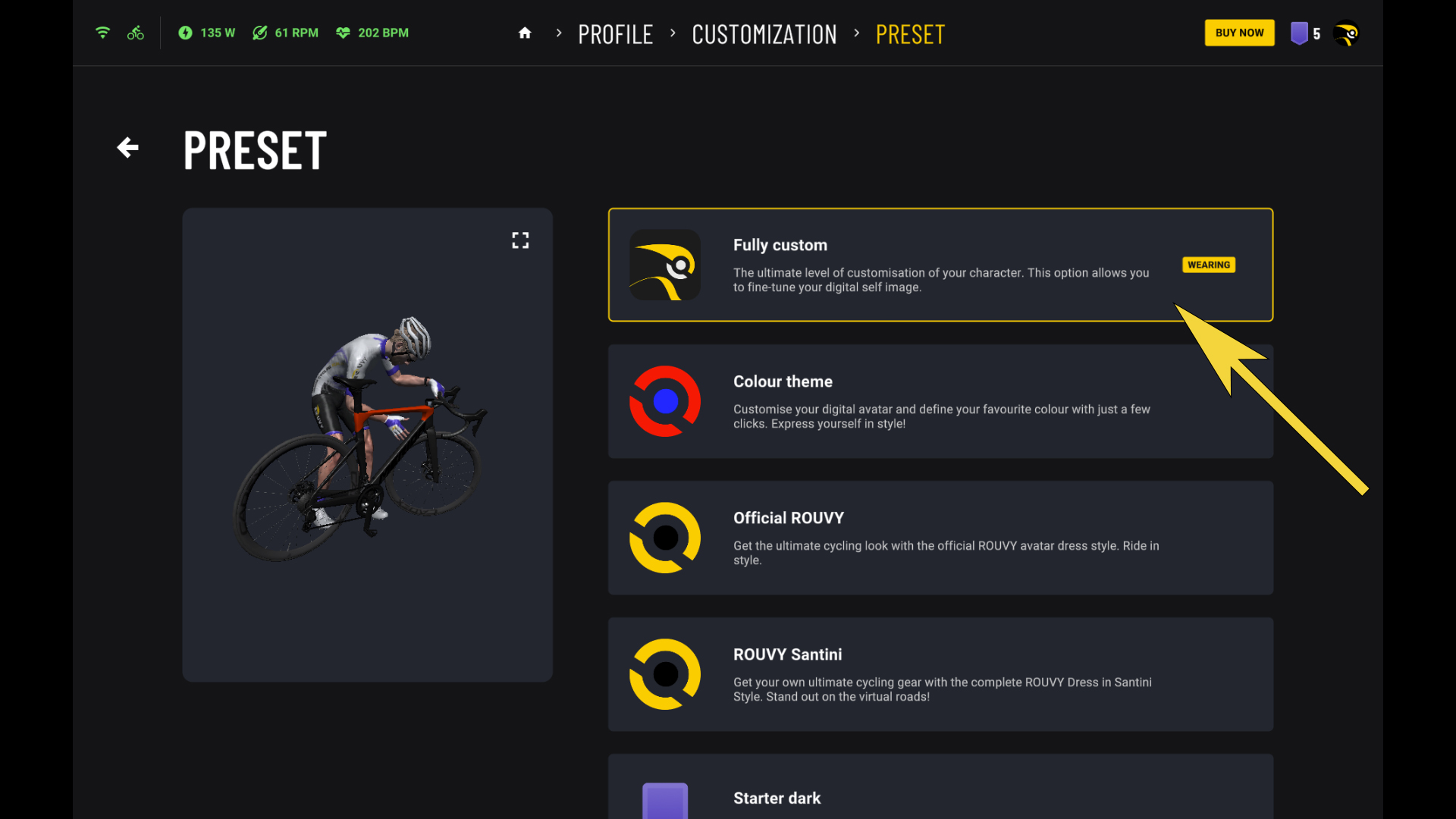 Do not forget that you can change the color of some presets directly in the presets list.
You will see a color picker to the left of your 3D Avatar - slide it to choose the color you like.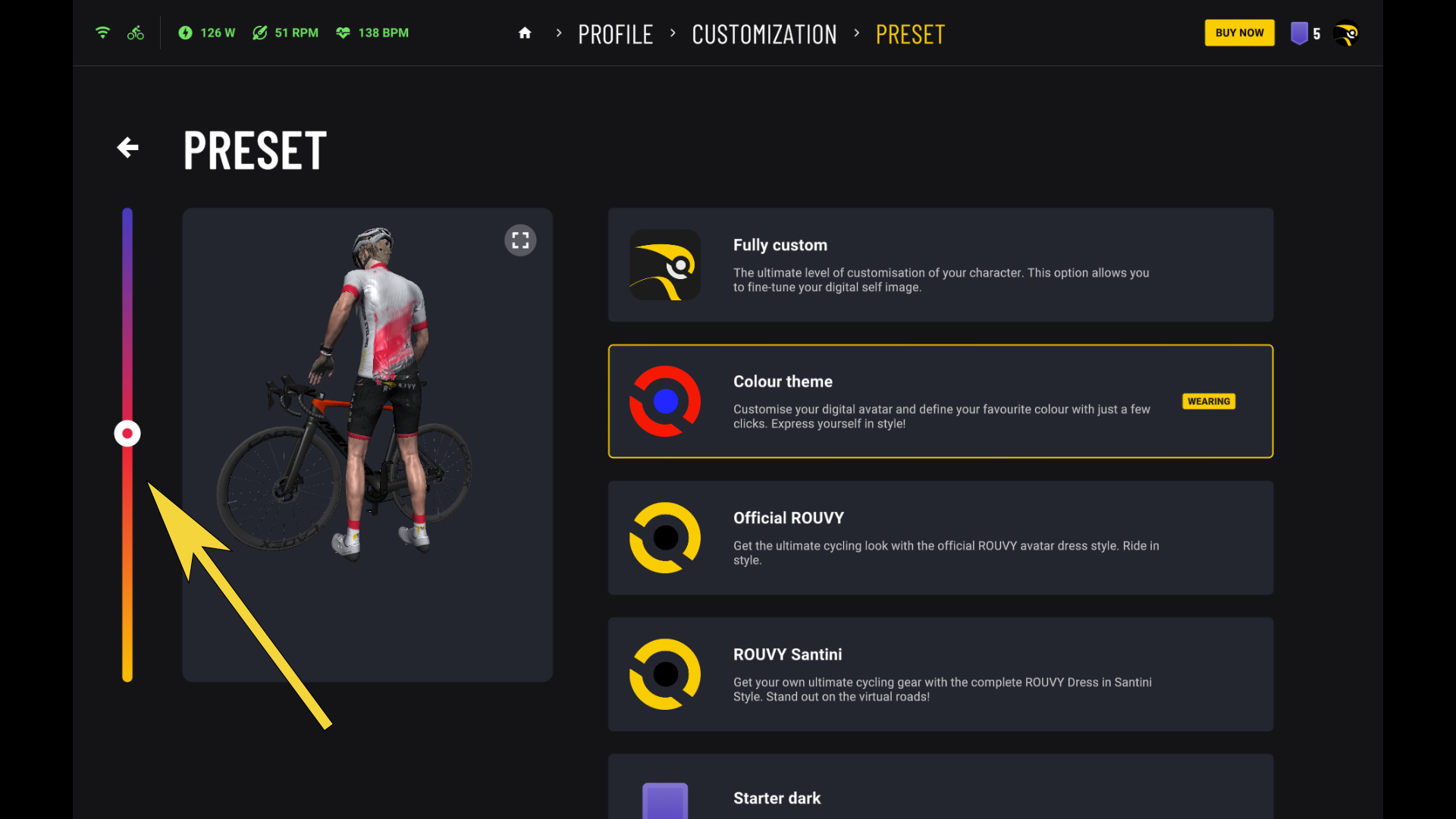 Fully Custom Preset
In the Fully Custom preset, you can change each part of the apparel, including your jersey, bibs, helmet, glasses, gloves, socks, shoes, and watch separately.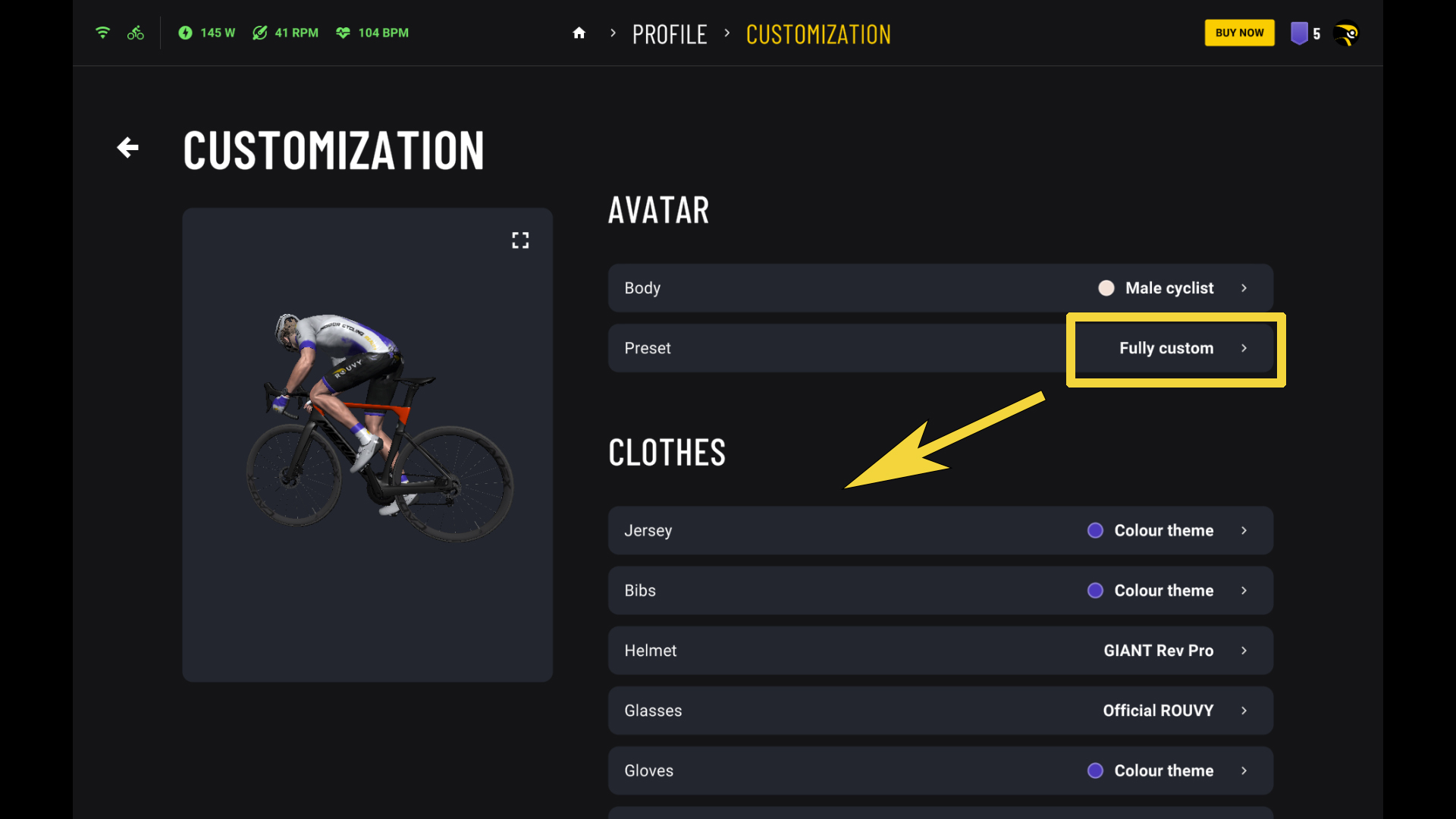 Click directly on the part of clothes you want to change, and you will see the list of available items.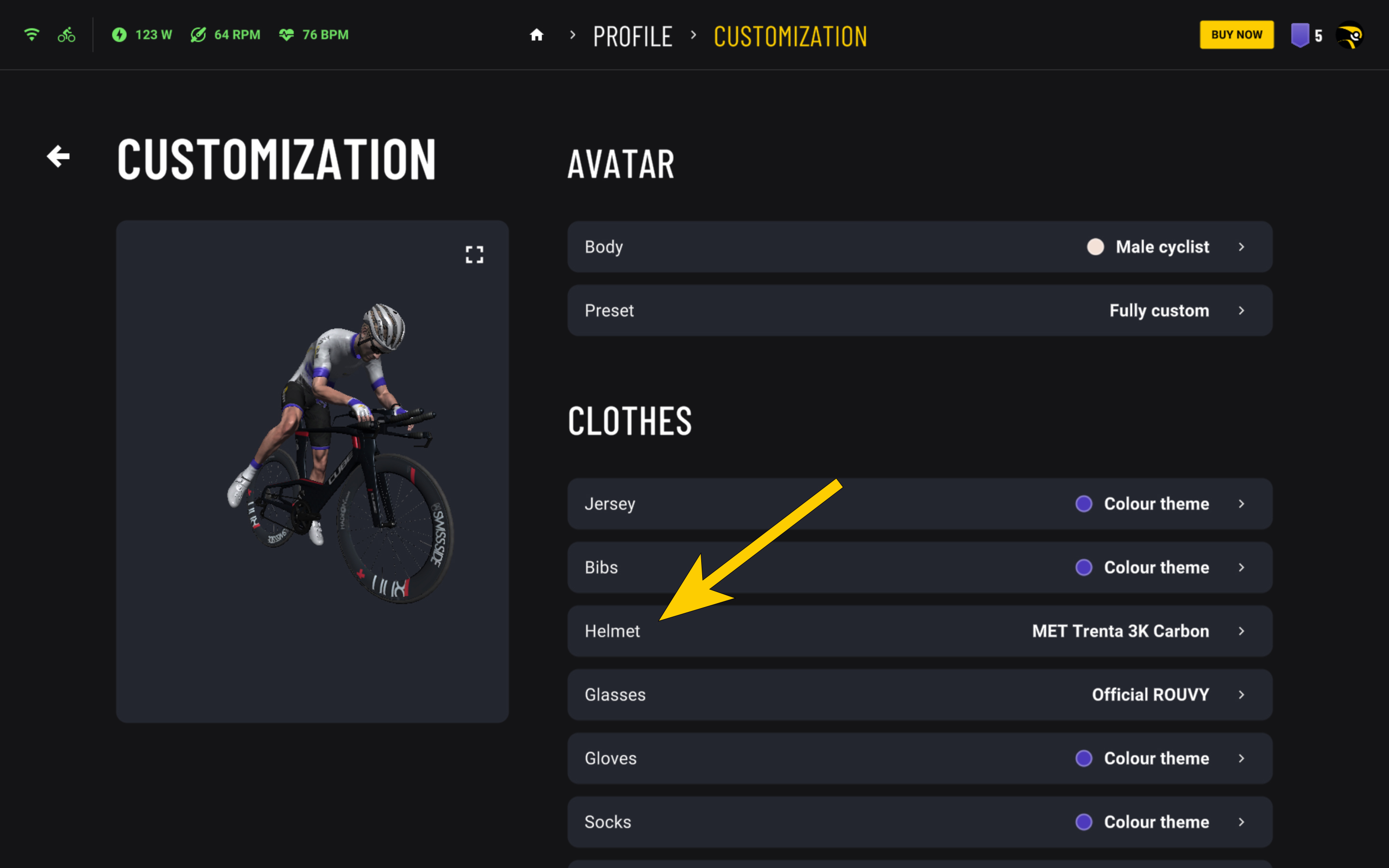 You can see which one is selected now, and all the changes are reflected immediately on your 3D Avatar.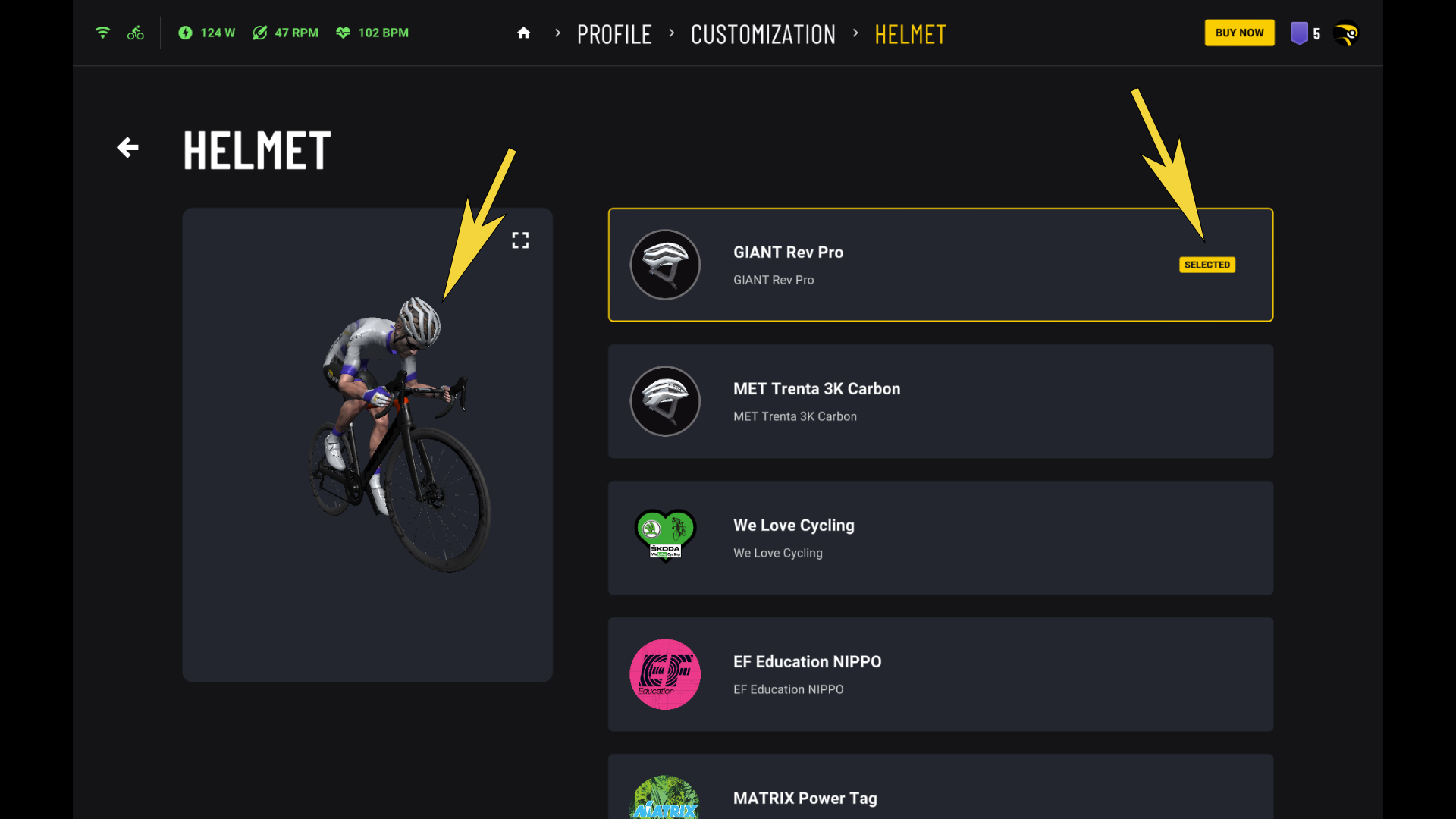 You can also change the color of some apparel features using the color picker to the left as well.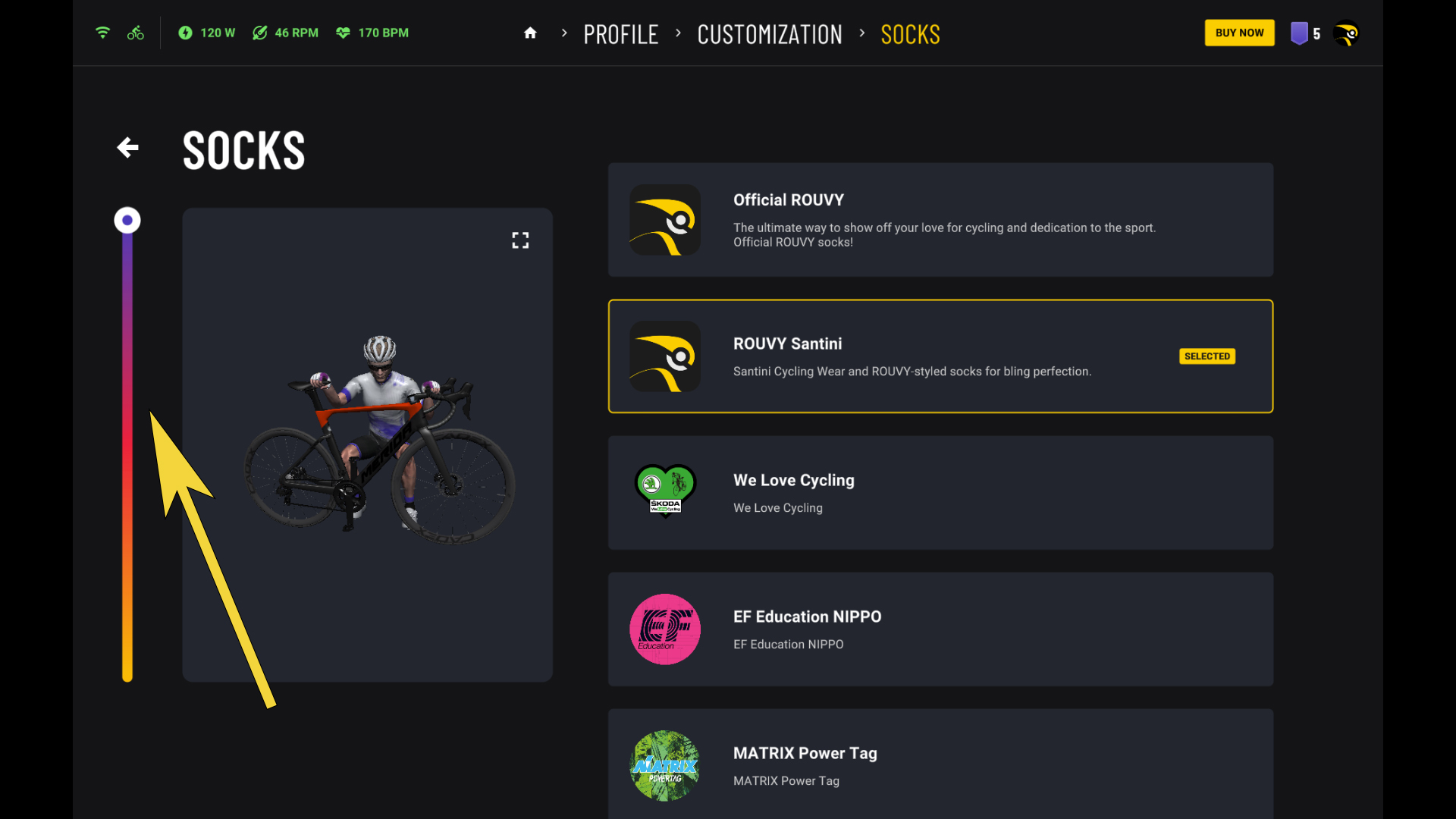 You can also choose not to wear glasses and watch - click NONE in the item list.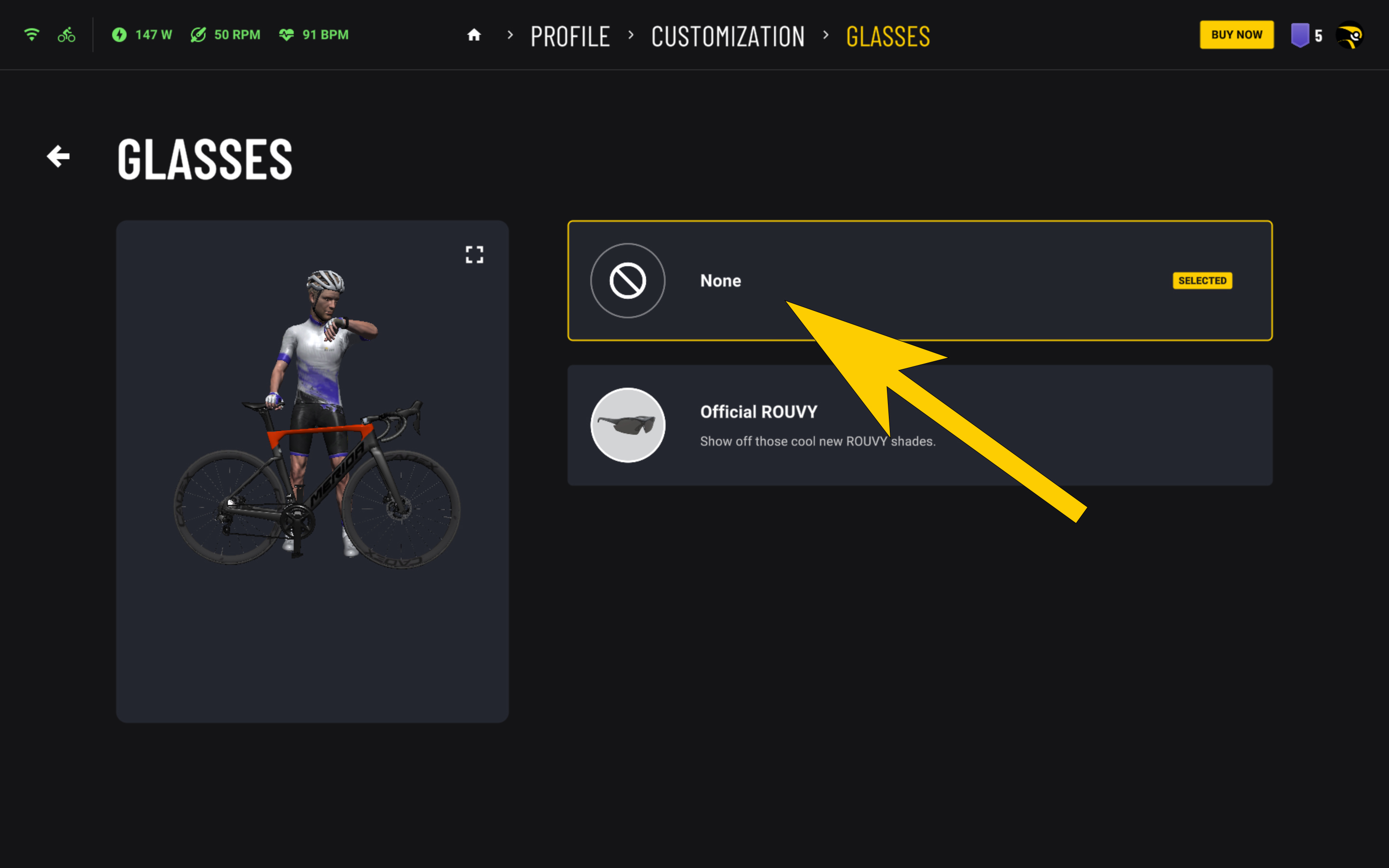 Other Presets
When you choose any other preset apart from the Fully Custom one, some parts of the outfit can be locked - see the padlock symbol.
You cannot change those. To be able to change those, you need to choose some other/ fully customizable preset.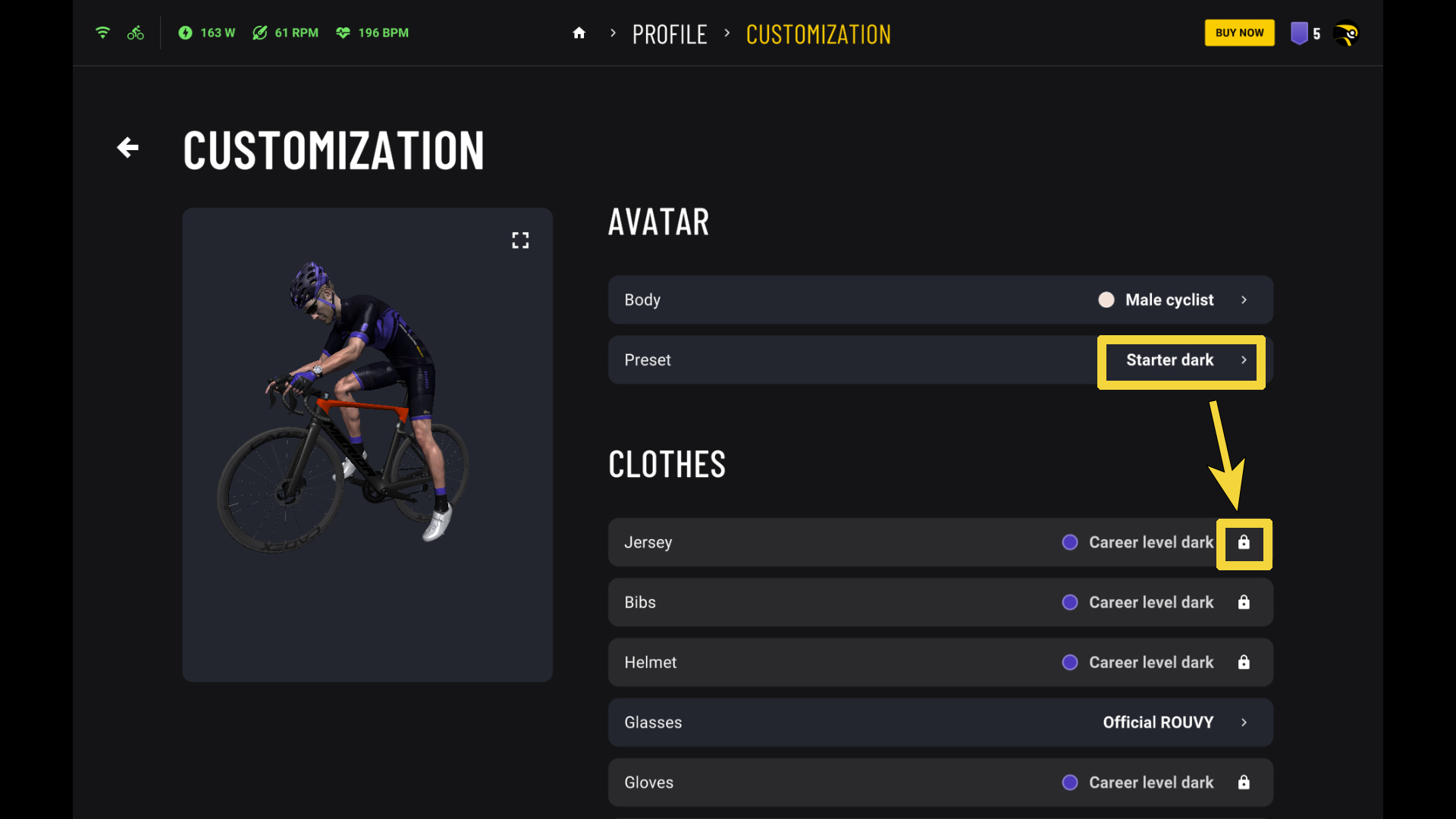 Change your Frame and Wheels

Starting from ROUVY App 2.28.0 you can spend your earned Coins on tuning your bike frame!


To change your bike, scroll down a bit, and you can alter your bike's frame and wheels.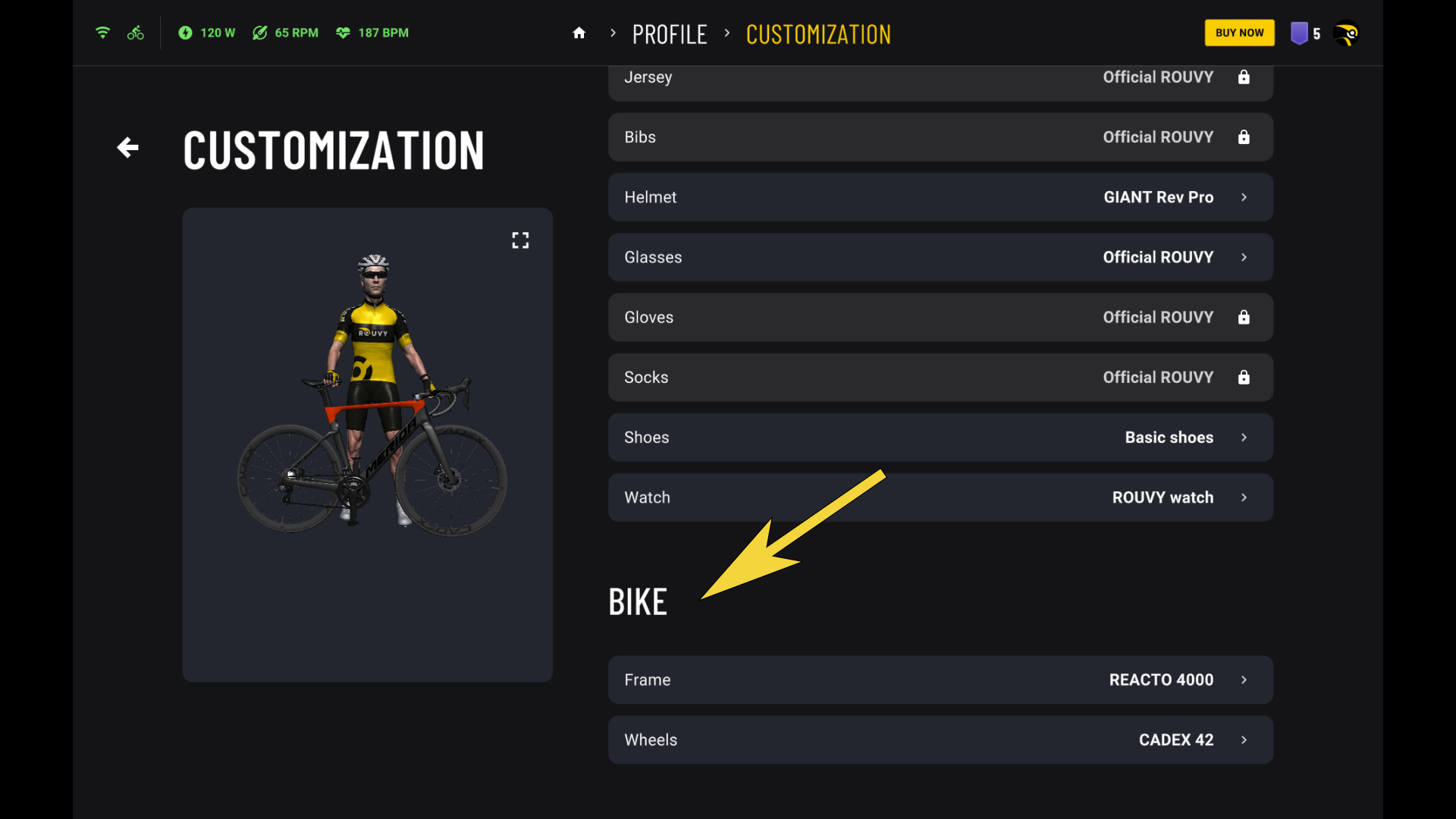 When you click on FRAME, you will be taken to a page where you can use your earned Coins to buy yourself a bike frame.


The frame you choose influences how your bike behaves on the route:
WEIGHT impacts climbing with lighter bikes allowing you to climb easier,
AERO frames are less wind-resistant, which gives you an advantage of going faster downhill, or on flat routes.
You will see the frames you already have marked as Owned, and the one your Avatar is currently using as Selected, as well as the price in Coins for the ones you can obtain.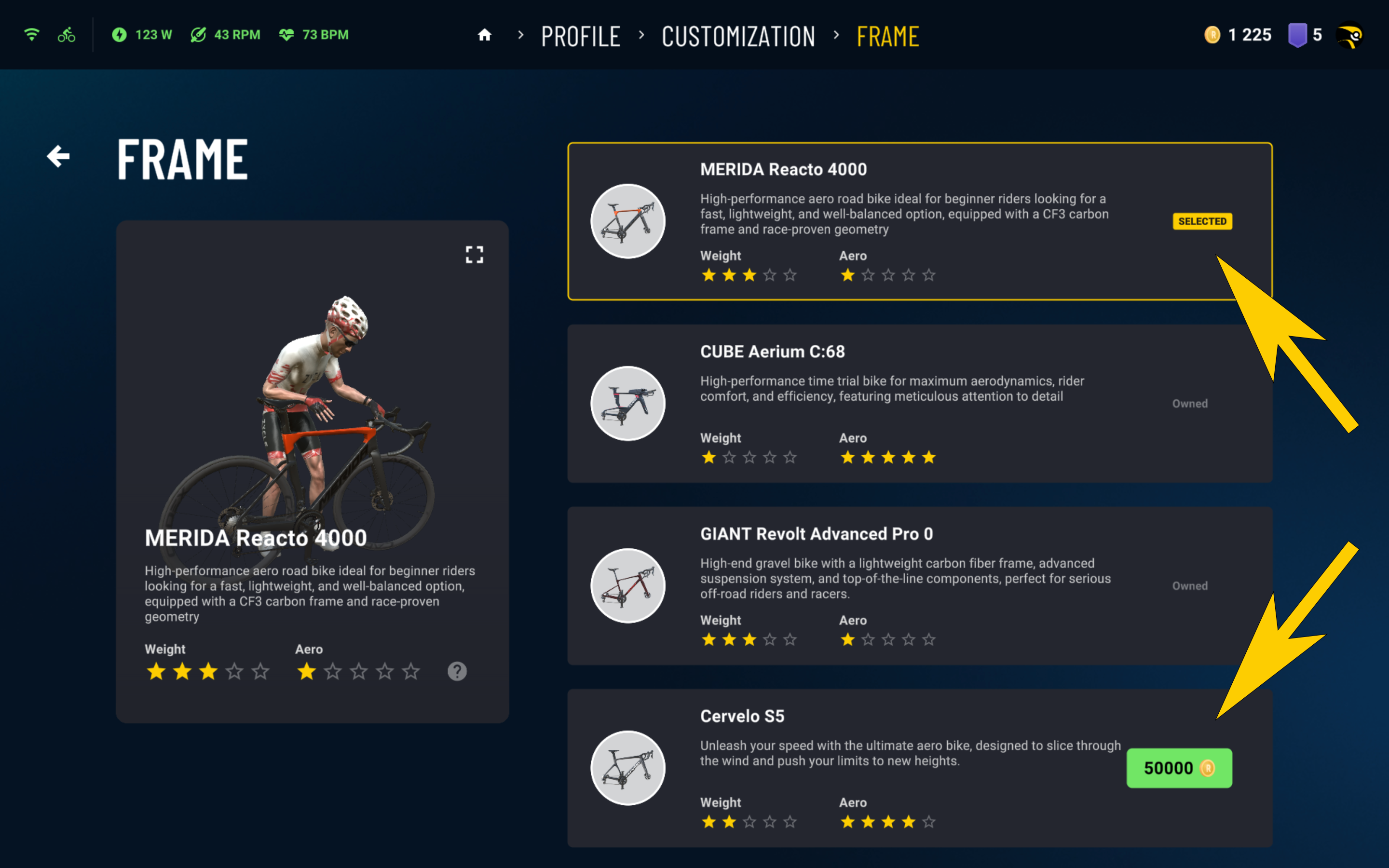 The more stars, the better the frame is in this particular aspect.
Start customizing your Avatar now, and keep your eyes peeled for new Avatar customization features that are coming very soon.
If something is unclear, you can always contact us - we are here to help.