- How to connect via ANT+ / Bluetooth in Desktop
How to set up the ANT+ communication
If you want to communicate via ANT+, you will need ANT+ USB Dongle. The indication of correct ANT+ connection in App is in the right-bottom corner (see picture).

Important: Rouvy doesn't support ANT+ USB 1 anymore.



In a case of a cross line, the ANT+ communication doesn't work. It can have a few reasons
Drivers are not installed properly. Please download installation of drivers here. If you have trouble to install the ANT drivers by Rouvy installer, you can try the Garmin USB Drivers Installer here. 

Garmin software and the ANT Agent

When things still don't work out, the reason might be that already installed Garmin software is using the same driver. First open TASK MANAGER (push CTRL, ALT, and DEL all at the same time) and go to the tab Processes. When you see ANT.AGENT32 in the list, stop this process. Start the Rouvy software again and check if the trainer is now connected. In the future, you can ensure that the ANT.AGENT32 doesn't start automatically as a standard the moment you start up the PC.

Click the right mouse button on the ANT agent icon (red circled) in the taskbar's system tray and choose the option Exit. Close and tick off the option that allows the ANT Agent to automatically start up. Now the ANT Agent can only be started up manually through the Start menu.
How to set up the Bluetooth communication
In a case of Bluetooth communication, you have two possibilities. Windows native Bluetooth support or via external BlueGiga USB Dongle. We recommend using the native Windows Bluetooth as the most comfortable solution.
BlueGiga Dongle support
Where can I buy it?
You have to buy the external USB BlueGiga Bluetooth Dongle - You can buy for example here:
note: if you want to buy from another website, make sure the adaptor is "BLED112". 
How can I install drivers?
- Plug the BlueGiga dongle out PC
- Install drivers as separate installation here or you can enable the installation of drivers as part of Rouvy Desktop installation.
- Plug the BlueGiga dongle into PC
- Run Rouvy App. The first time the Rouvy Desktop will ask you to use BlueGiga instead of Windows native manager. You can enable BlueGiga immediately or later in Bike settings.
- Once the BlueGiga searching is enabled all Bluetooth devices will be searched by BlueGiga Dongle and Windows manager is disabled. The maximum connected devices are 3 right now.
Manual installation of drivers
If you have any issue with driver installer, you can make the installation of drivers manually. 
Download the Rouvy Driver Installer and install. It will create a directory structure starting at C:\Program Files\SportSoft\VirtualTraining Drivers\
Connect the BlueGiga dongle to your USB.
Based on your PC's architecture select 64bit/32bit folder and go into file usbserial.inf -> right click -> Select install.
Based on your PC's architecture select 64bit/32bit folder and go into file dfu.inf -> right click -> Select install.
Once installed, the dongle will appear as a COM port called "Bluegiga Bluetooth Low Energy (COM X)" under Windows Device Manager.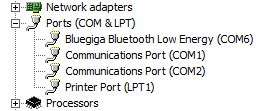 Windows Native Bluetooth
In a case of BLE communication via native Windows, you have to pair the trainers/sensors first in Windows Bluetooth Manager. After that, you can connect these devices to Rouvy desktop. In a case of a pairing of CycleOps trainers, you will have to enter the password 0000.
Driver error during the pairing of a device in Win BT manager
This is a well-known Windows issue. You have to try it more times and try to turn BT off, wait few minutes, turn ON...
Rouvy desktop request you to repair the BLE device
Please read more here.  
*Please, make sure your BLE or ANT+ is enabled. ( see the picture below)
Related links:
Comments