MY activities
9 out of 15 found this helpful
updated
You can find all your completed activities in your user profile on rouvy.com, or for more details, you can also visit your Training diary on my.rouvy.com.
Did you know about creating the virtual route from your already uploaded outdoor activity? You can find the instruction here.
Do you have an issue with uploading your activity? You can find a solution here.
Log in to your user profile a go to the "My Activities" section. There is a list of your indoor or outdoor rides.
Indoor activities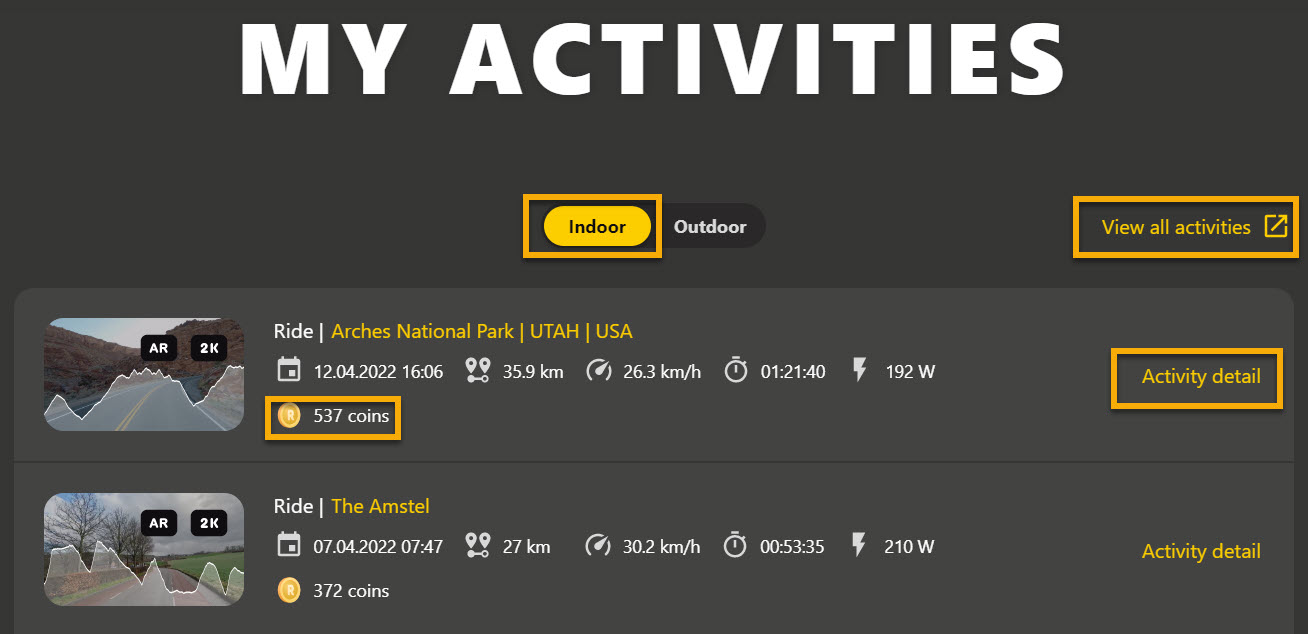 You can see a short summary of your activities rode indoors - date, distance, speed, duration, power and earned Coins for your Career progression. For more detail click on "Activity detail" and you will be redirected to your Training diary on my.rouvy.com.
Outdoor activities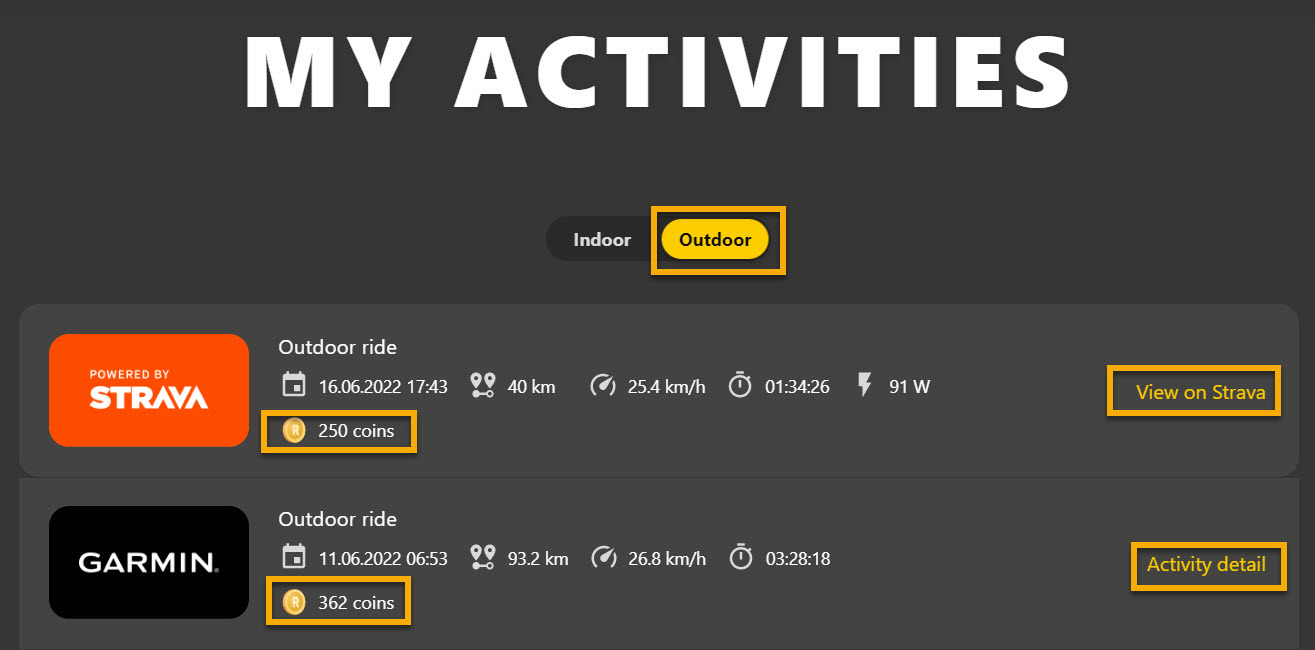 ROUVY supports your outdoor riding efforts and counts your outdoor activities for your Career. Never stop riding outside. Ride indoors whenever you can, to keep your fitness level rising. Activities upload via STRAVA and Garmin Connect only are counted for Career progression.
You have several options on how to display the history of your activities. It depends on how much in detail you would like to see your activity and how you prefer to view them.
After log in to the ROUVY web account, you can see in the main menu on the Dashboard "Training diary ", where you can see a short summary of your activities (Date, Distance, Duration, Difficulty).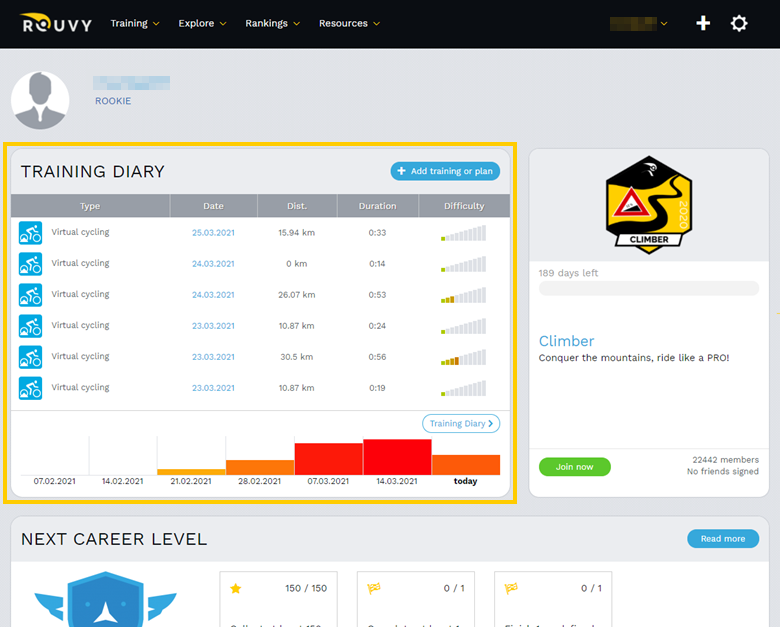 Second (more details view) how to see your activities is:
More details possibility view on your activity.
If you need to check more in detail particular activities:
1. Click on the button "Training diary ".
2. Here you can see month statistic (distance/ time/ kJ) -> click on button "full statistic ".
3. Now you can see the statistic overview -> simply choose the month/ year.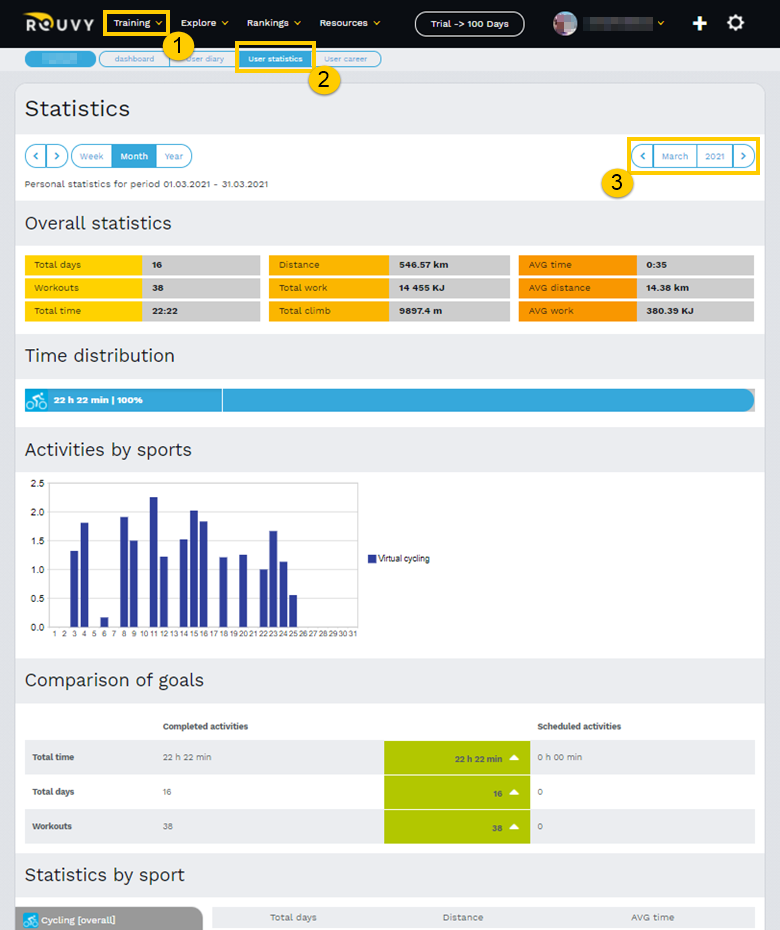 You can check your activities from your training diary even on ROUVY applications (Android, iOS, desktop) by choosing the button "activities". Your activities are saved "forever", you can check your activities many years back.
Agenda view
1. Go to your account > click on "Agenda".
2. Here you can export and print your activities.
3. Here you can sort your activities by date, title, duration, and distance.
4. Here you can switch from Training diary to Agenda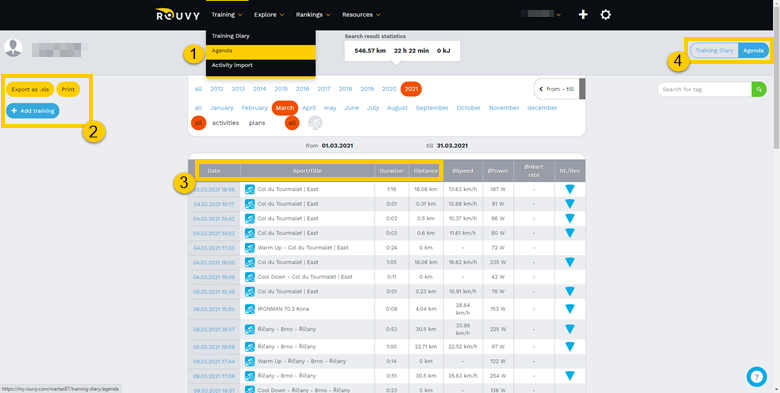 How to create a virtual route from my activity?
In the ROUVY is possible to make a virtual route from every recorded activity where the GPS points are. It means if you ride an outdoor activity with the smartphone, smartwatch, or whatever can record your GPS data, you can easily convert it to the Virtual Route and ride it whenever you like.
Please note, that this option is available in the user profile on my.rouvy.com only. Log in at my.rouvy.com > Training > Activity import > Choose file and Upload.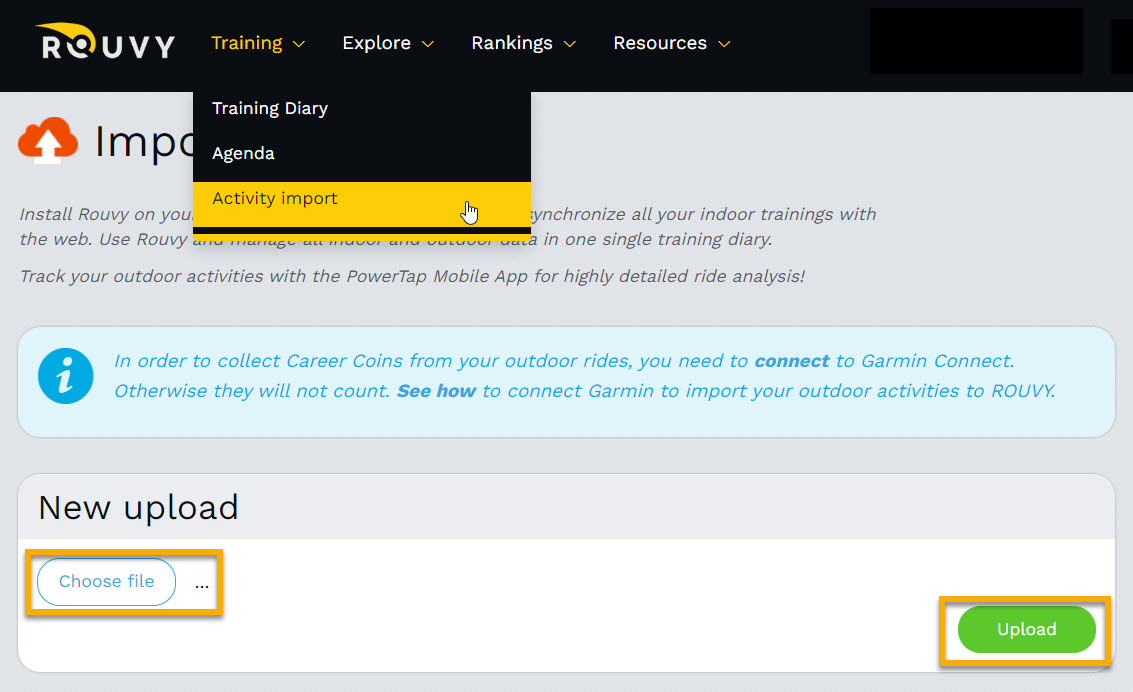 After you import or upload your activity, find your activity in the Training diary, and create a route by clicking on Create Route under the graphs on the right side.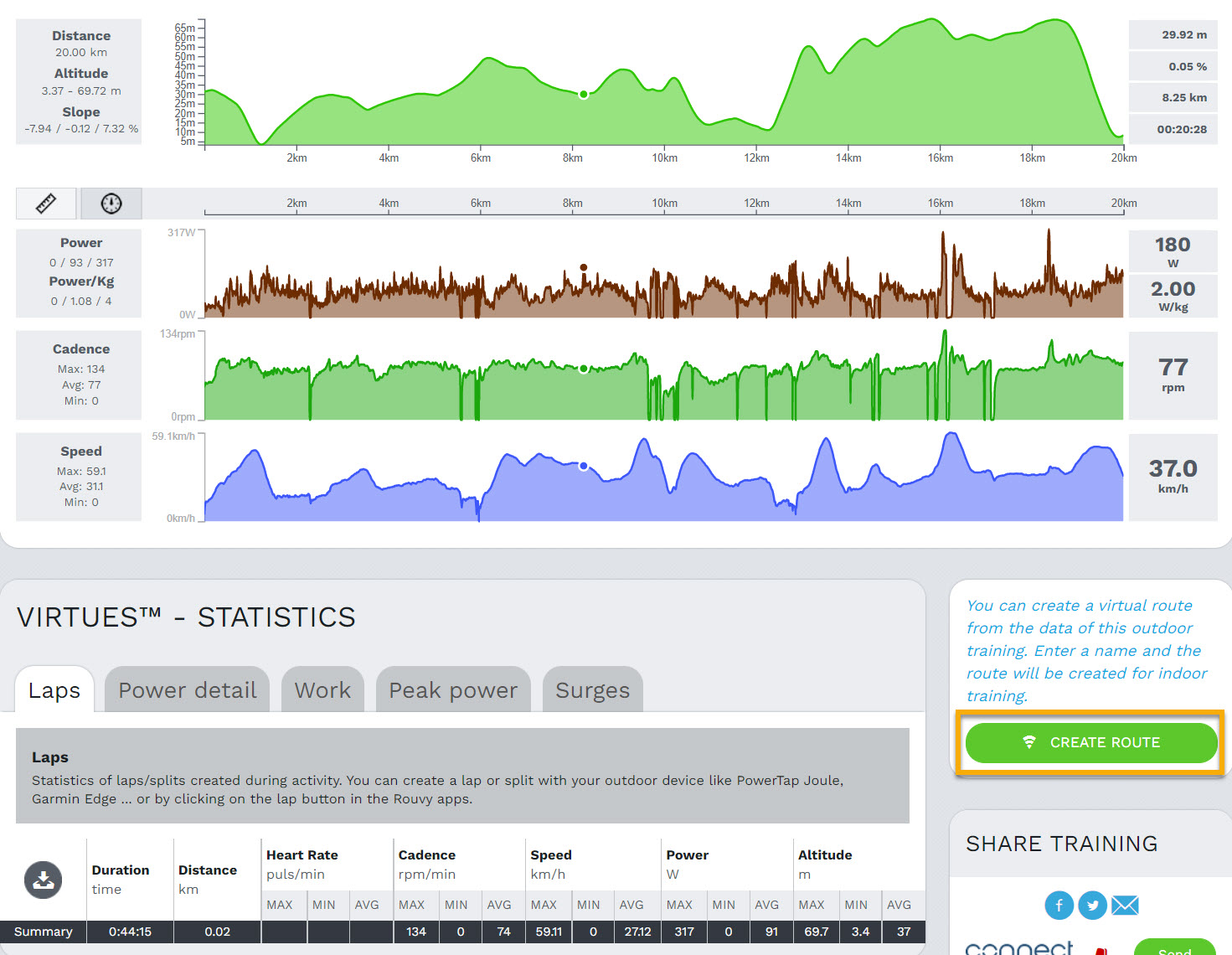 The route is saved/available in the "Created" route category.
Have you finished your activity, and it is still uploading?

Try to log out, end the app, start the app and log in again.
Here are the possible reasons:
You are probably not connected to the internet.
You are out of storage.
Our database can be overloaded.
Do not delete the activity, please. Let it be in progress. It can take a few hours before it is successfully uploaded. If the activity is not uploaded for a longer time, don´t hesitate to contact us.
---
For more help, please feel free to contact us.
Was this article helpful?
9 out of 15 found this helpful