Troubleshooting ANT+/Bluetooth
I can not connect or my wattage is dropping to zero or spiking. This means something is transmitting on or interfering with your trainer or sensors.
If the mark for Bluetooth or ANT+ is grey:
Bluetooth is turned off

We do not support Bluetooth USB dongles.

ANT+ USB 2.0 is badly plugged in

ANT+ USB 2.0 is damaged

You do not have ANT+ USB 2.0

You do not have Bluetooth/ANT+ drivers

Enabled Garmin ANT+ Agent or Garmin Express

USB hub does not communicate well with the Mac. We should only recommend the "branded" one for the best use of Ant+.
If the marks are not grey, and you have problems with connection or drops:
The list of the solutions you may try
- Check other apps and devices. Disconnect all manually.
- Turn off BLE on your device and then turn it back on again.
- Restart ROUVY and try pairing again.
- Clear your app cache.
- Physical distance - the closer, the better.
- Any object between trainer and device can cause signal loss.
- Dying battery - try a new one.
- Make sure your ANT+ dongle is firmly plugged in (we support a 2.0 USB dongle).
- Fans generate an electromagnetic field around them that can block signals - try another positioning.
- Dying sensors or trainer - try to borrow one from your friends to confirm this option.
- Wireless signal interference -Bluetooth headphones, speakers, WiFi router, Microwave ovens, Any devices that use a cable to connect to a computer or power source, Unshielded cables, Anything else that transmits a wireless signal, wireless computer accessories, etc.
- Open your Bluetooth settings and search for Bluetooth devices. If your devices do not appear, there is an issue with the sensor, or it is paired to something else.
How battery life can affect the signal: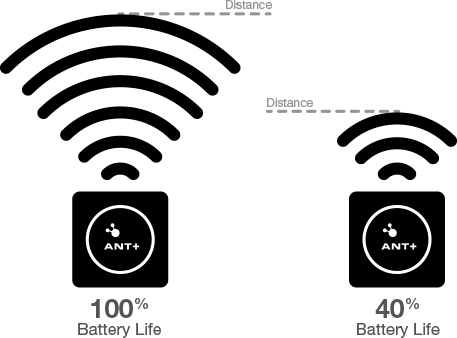 If you are stuck, feel free to contact us.
Was this article helpful?
1 out of 3 found this helpful