Workout
62 out of 79 found this helpful
updated
The Workout feature is available on the ROUVY app for all platforms. Let's get started! Go to the ROUVY app and log in with your ROUVY credentials (email address and password).
Where you can find Workouts?
You will get to the cycling dashboard. On the main screen for the cycling section, you need to click on the Workouts button at the bottom right corner. See the image below.
What Workouts do we offer?
After clicking the workout button, you will land on the Workout dashboard. There you will see different types of workouts. First are Recommended workouts. Below are folders with different types of workouts.
ROUVY guides - workouts that we created to improve individual skills.
FTP tests - workouts to find out what your FTP is.
Created - your own workouts.
My favorite - your favorite workouts.
TrainingPeaks - TrainingPeaks training of the day.
Hunter Allen - workouts from the cycling coach.
Easy - warm-ups and recovery rides.
Intervals - interval training of all kinds.
First weeks - training plan for beginners from our ambassador and coach, Rick Schultz, from Bike Fitness Coaching.
Workouts overview:
If you choose the workout, you will see:
1. Name
2. Description
3. Duration, TSS, rating
4. Segments
5. It is possible to change a route if you wish to ride a different course. You can choose your favorite from our more than 400 AR routes.
If you have already paired your trainer, it will connect automatically once you start the workout. Also, you can click on the icons on the top bar and connect a new trainer/sensor.
How to create ROUVY Workout?
If you wish to create your own workout in ROUVY, please log in at my.rouvy.com. Click on Explore > Workouts > "Create a Workout" OR the plus button (+) and Create a Workout.
Now choose the type of workout you wish to create. Create a workout, name it and save it.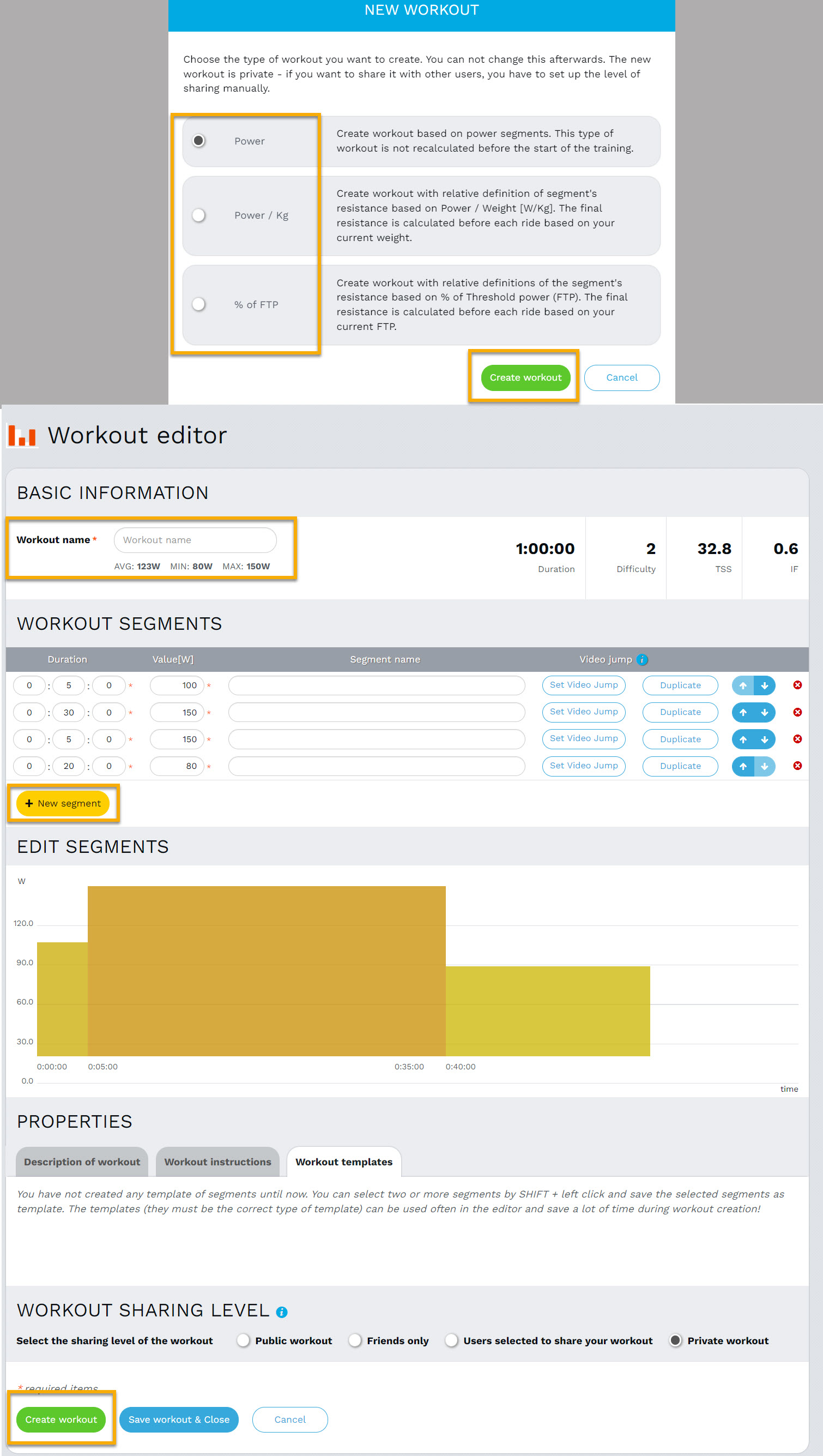 Your workout will be visible under your Created.
How to import ROUVY Workout?
You can also import your own workout directly from the app. Please note that we support .mrc and .erg files. In the app, it is possible to import workouts only on Windows and Mac. You will find it in the Created folder then.
Workout screen description:
1. Effort means how well you stick to the prescribed power
2. Shows your average and maximum values for Cadence, Power, and Heart rate, if you have those sensors available and paired.
3. Shows the Time since you started and the remaining time in the workout
4. Shows your current heart rate, power, and cadence
5. Shows workout segments and also your current power output overlaid on each of the intervals.
6. Info about the current segment and the next segment.
7. There you can adjust the resistance. You can skip intervals. You can pause training.
8. is the menu where you find settings, sensors, and end ride.
9. earned coins
Workout summary:
After finishing your workout, you will get the workout summary. There you have the option to either save the workout or discard it.
Also, you can review how well you kept the power output compared to the prescribed intervals.
If you ride an FTP test, you will also get your new FTP value there.
To go back to the cycling section, you have three options:
Click on cycling in the top middle.

Click on the arrow next to workouts.
Press escape on your keyboard.
---
FTP test
If you select the FTP test, you are required to enter your estimated FTP.
If you are not sure, you can start with 200W. We add 5% to your entered value and that becomes your target power.
If this is too hard, after you rest, restart the test and lower the value accordingly. The power value represents a power output you should be able to sustain for 1 hour even though the test itself only lasts 20 minutes.
You will get your new FTP value in the workout summary after the FTP test.
---
Important Note:
For browsing our workout database, use the search feature on our website.
During the workout session, you will not be able to see other Avatars of other riders on the route.
Workout activities will not appear on leaderboards or route records.
Always download the video of the route before the ride.
While the smart trainer resistance is controlled by the ERG segments, the rider's avatar is moving just by power, like if you were riding on a 0% slope.
VIDEO TUTORIAL:
---
For more help, please feel free to contact us.
Was this article helpful?
62 out of 79 found this helpful