In this article, we will address the most common issues with video and display (video freezing, strange camera behavior, map only displayed, plus the questions about data display in the App), and we will give you some tips on how to adjust the features shown on your display while riding, how to take screenshots, maximize and minimize ROUVY App on your screen.
If you have a black screen issue, we have this specific article to help you with that problem.
Video Freezes and Cuts Unexpectedly
Most of the video issues stem from either bad internet connection or a corrupted downloaded file. All ROUVY routes are available to download, which we recommend to have less issues with your ride. You can also stream the route but it will require a stable internet connection.

If video freezes on a downloaded route:
Please make sure you have enough space on your device to download the video, especially when opting for higher video quality. The download will not be successfully finished if there is not enough place on your device. You can check how to download the video here, and all your downloaded routes can be found in the in-app settings under VIDEO;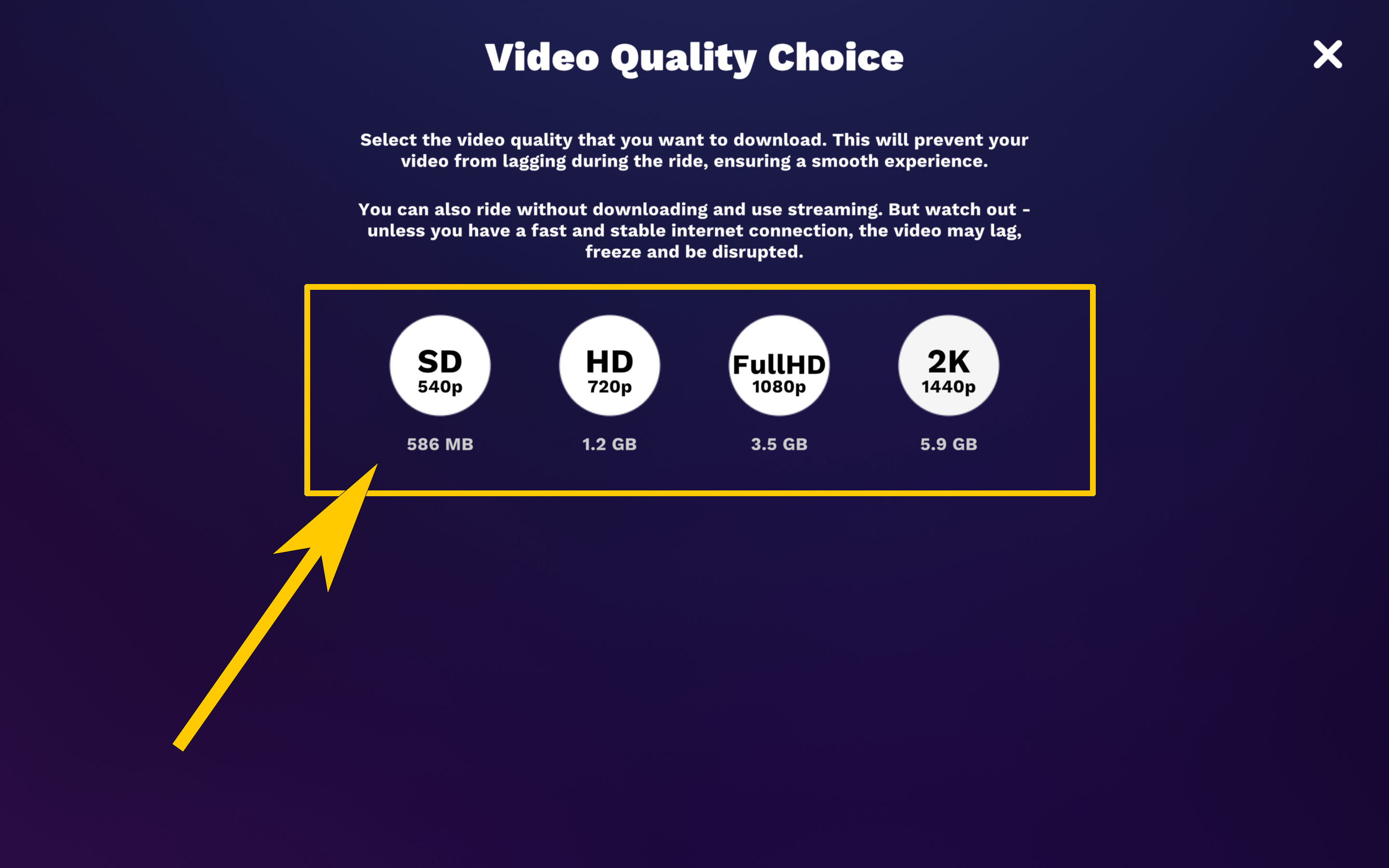 Do not click out of the App - please wait on the same screen while the video is getting downloaded. You should see the video as "downloaded" in the list in your ROUVY App to make sure it is ready to be ridden;
Downloading speed can be affected by many factors, including your internet connection speed, other apps active in the background, and even the amount of devices connected to your network. Please be patient and let the route fully download;
If you are sure the video is downloaded correctly, yet it still freezes, try lowering your video player quality. It can be found and changed in your in-app settings.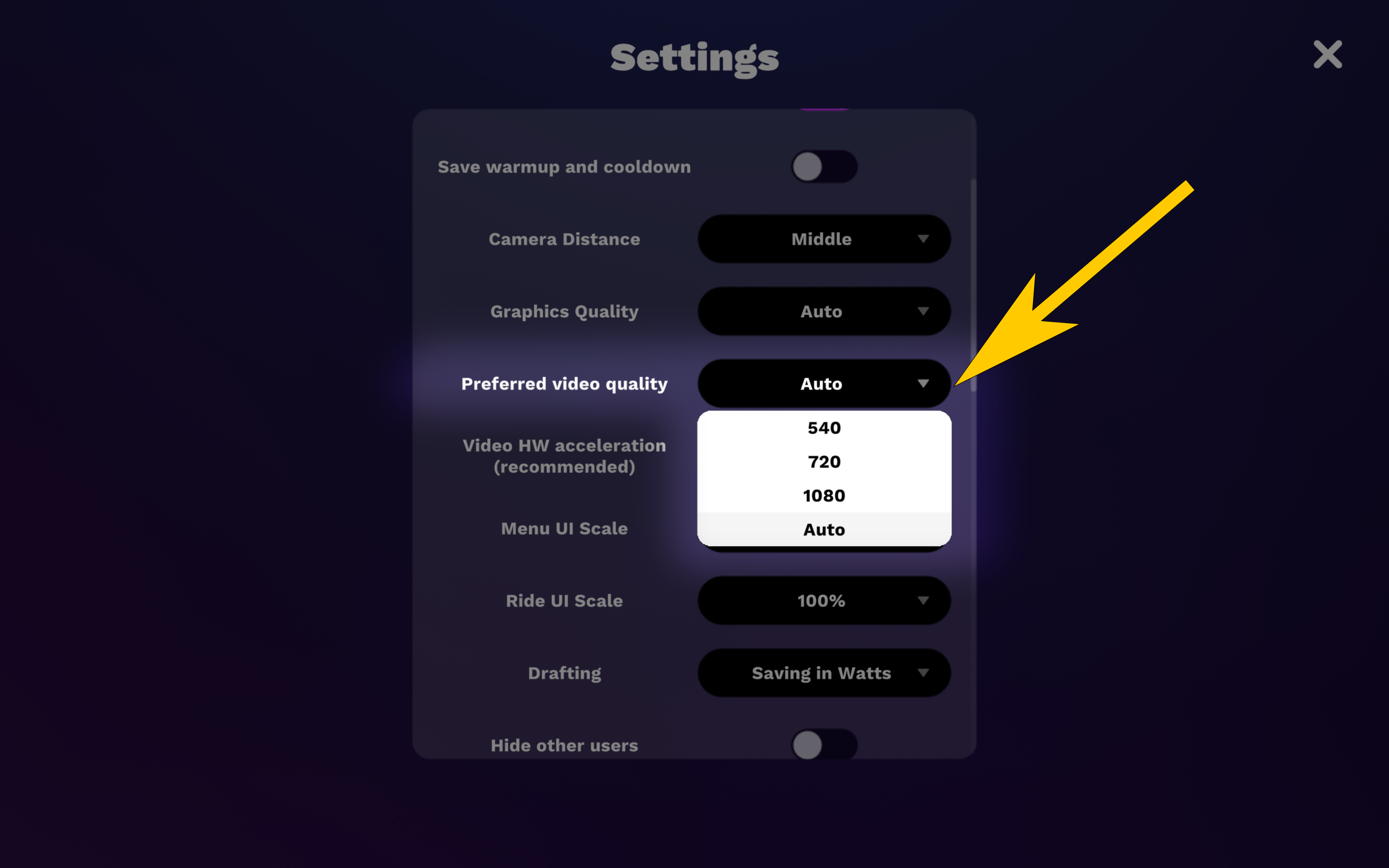 What you need to check on a streamed route: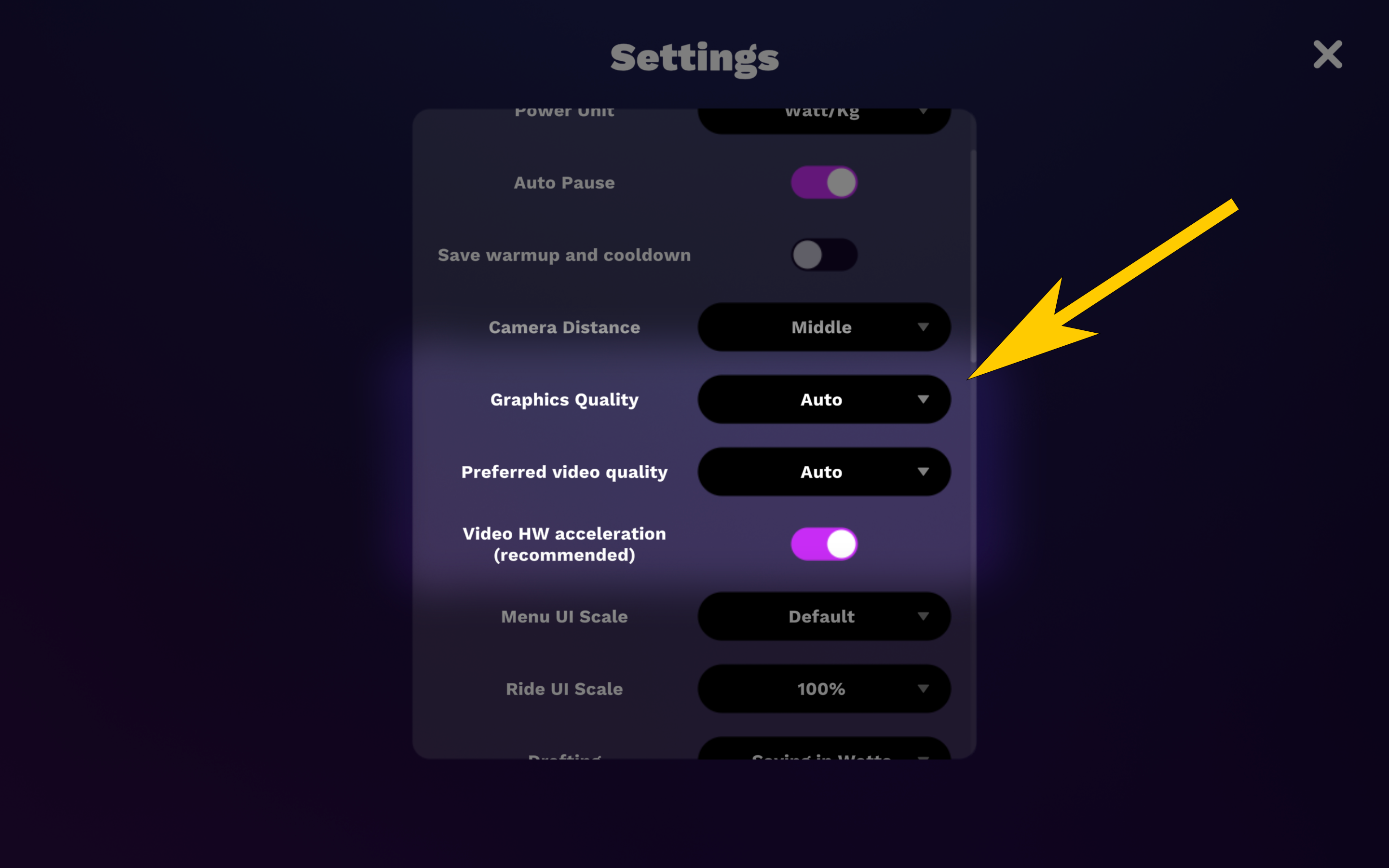 If your chosen route still does not load and all you see is a black screen, there are more details in this article. You can also get in touch with us, we will try to help.
Strange Camera Behaviour
Most likely you are riding one of our OmniMode routes, where the camera angles change by default in the sequence 80-sec front view, then 15-sec rear/panorama view.
You can change the camera views manually during a ride by clicking on the icons at the top right of the screen - there are REAR VIEW, STATIC PANORAMA VIEW, and FRONT CAMERA.
You can also choose the default position of the camera view for your avatar in the in-app settings.
I Can See the Map Only
This can be changed directly on the route by clicking the map icon in the top-right corner.
This way you can switch between the two modes (route video/ map).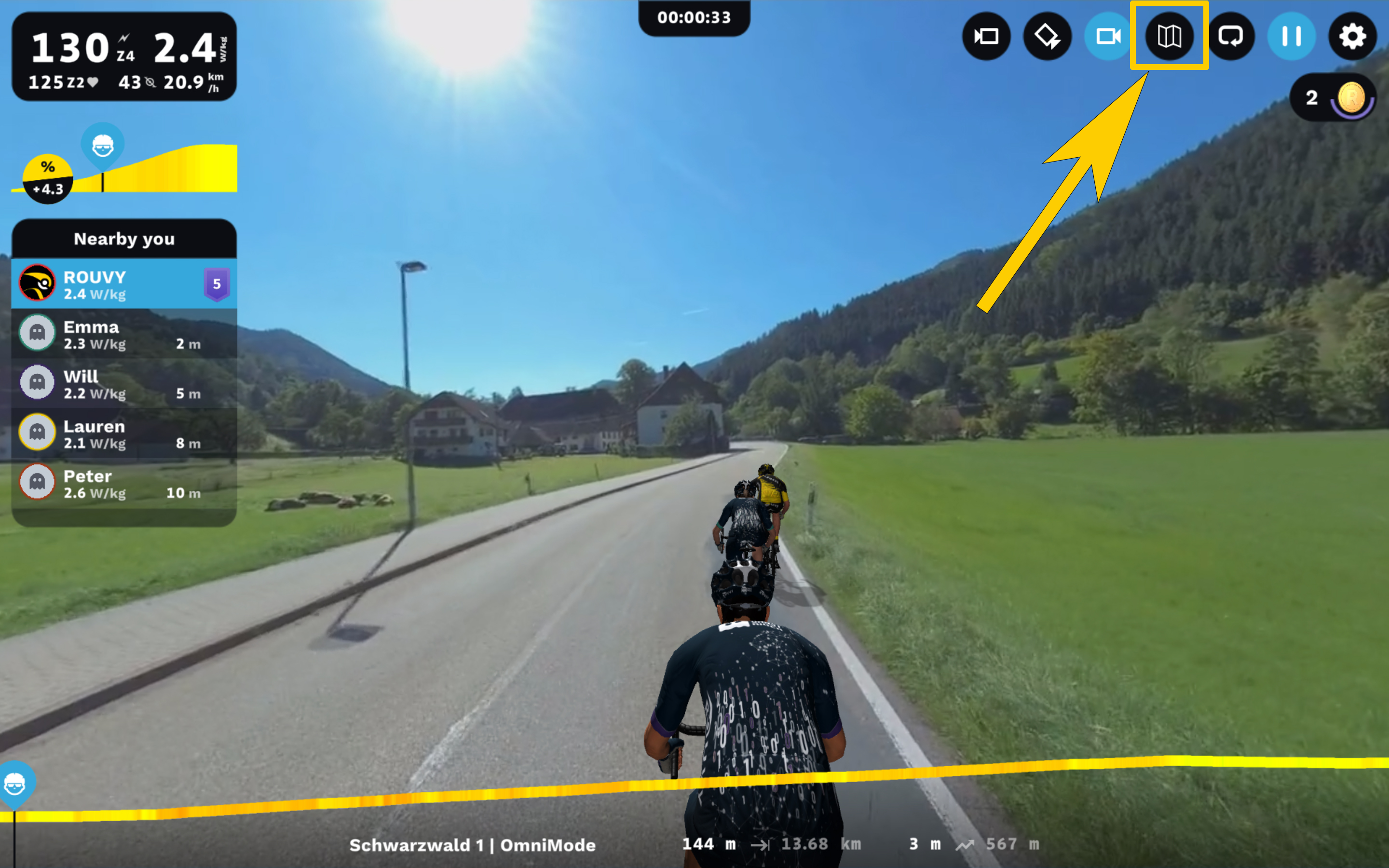 Adjust What You See on the Screen
You can change your camera angles on OmniMode routes;
You can make your AVATAR disappear. Go to your in-ride SETTING on the top-right corner, then change CAMERA DISTANCE to ME. You will not see your AVATAR anymore.
You can make other riders disappear, by going to the SETTINGS from your dashboard and enabling the HIDE OTHER RIDERS feature. More on that here.
You can leave other riders visible but hide other riders' labels (names) above their heads. Just go to SETTINGS and turn on/ off the switch in SHOW RIDER LABELS (NAMES).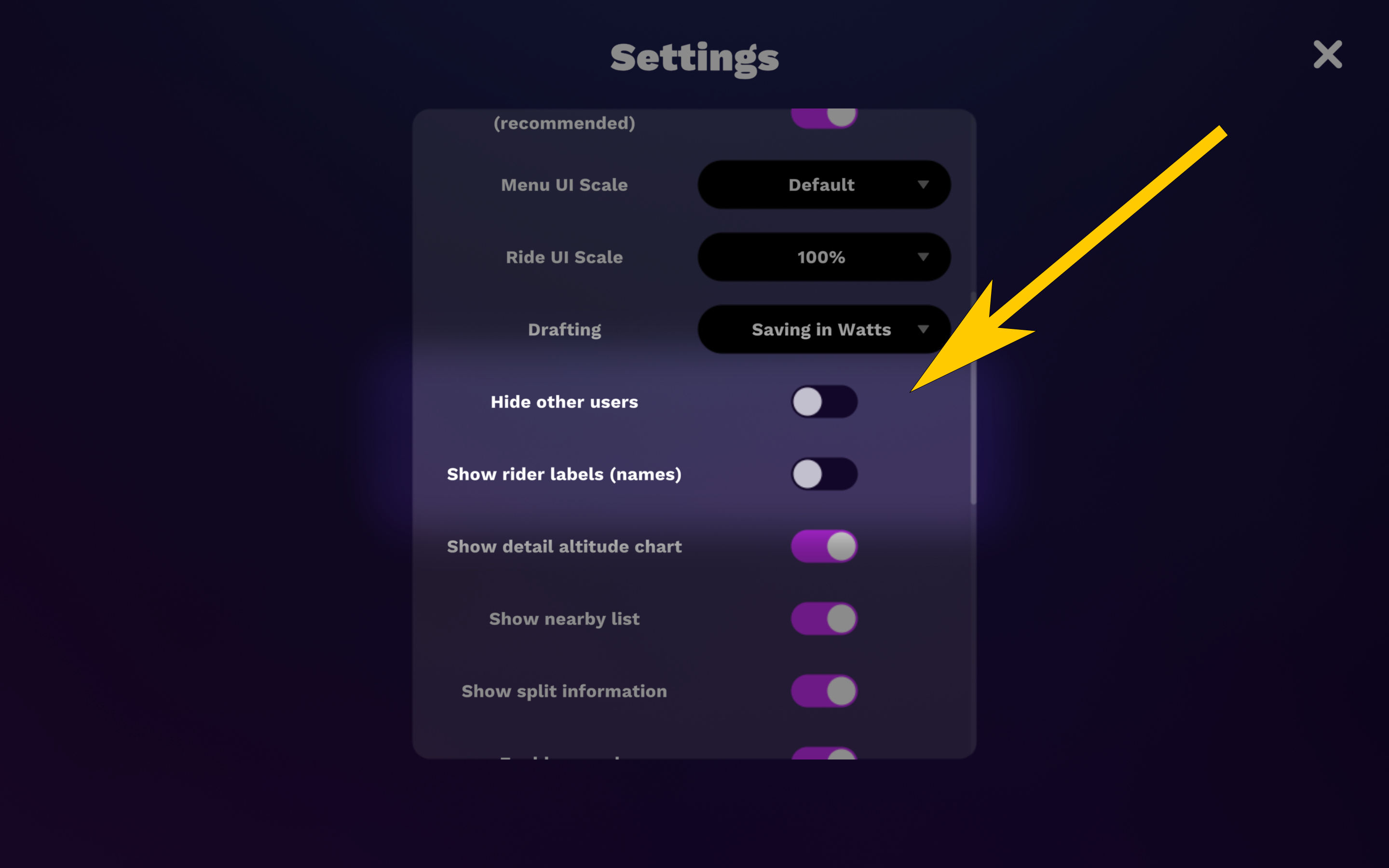 Data Display Issues
Here are some of the most common issues:
If you feel that the data displayed on the App is not correct, try calibrating your trainer first. You can also have a look at this section to see how ROUVY counts different measurements.
If the data on the cycling computer differs from the data displayed on the ROUVY App, this is because the cycling computer is displaying data directly from the trainer without any correction.
Unfortunately, at the moment ROUVY doesn't display gears used on a Wattbike during a ride.
Screenshots and App Resizing
To take screenshots on different devices:
Windows: There are multiple ways to take a screenshot. The easiest one is the windows key (a key with the Windows logo usually on the lowest row of your keyboard) + PrtScn (print screen) button. The screenshot will be saved to the PICTURES and SCREENSHOTS folder.
Mac: To capture the entire screen, press Command-Shift-3. The screenshot will be automatically saved as a PNG file on your desktop with the filename starting with PICTURE followed by a number, for example, Picture 1, Picture 2, and so on.
Android - Press and hold the power button. You'll get a pop-up window on the right side of your screen with icons that let you power off, restart, call an emergency number, or take a screenshot. Another way is to hold down the power button and press the volume-down button at the same time.
To Resize the ROUVY App:
Minimize it by pressing alt+enter for Windows and control+the up arrow for Macbook.

How to switch a full-screen mode to a window for ROUVY Desktop App, press ALT + ENTER.
Does the problem still persists?
Please check if your device meets ROUVY System Requirements. For more help, please feel free to contact us.