Group Ride
52 out of 59 found this helpful
updated
ROUVY GROUP RIDE allows you to share your rides with your friends or other athletes from around the world. Enjoy riding in a group, stay motivated, don't worry about your performance, and simply enjoy exploring the world. Challenge others to join the ride without any podium aspiration.
When exploring the world with GROUP RIDE, you will be able to stay together with the Group Ride Leader, no matter your performance. Keep pedaling, and the ROUVY Magnet will keep you close to the Group Ride Leader by giving you extra power.
Characteristics
Invitation driven.
Non-competitive - all athletes are welcome - no matter your fitness level.
No official GROUP RIDE results.
A great tool to befriend and engage with new athletes outside your circle.
Join our Facebook group ROUVY Athletes, create your own EVENT and invite your friends.
How the Magnet scenario works
In order to stay next to the Group Ride Leader, one must produce the same effort / watts as the Leader. When a rider produces less performance and starts losing distance, the magnet kicks in and starts helping the rider to stay with the group. It works the other way too - if you decide to challenge your Group Ride Leader and ride much faster than him or her, our magnet will pull you back to the Group Ride Leader, allowing you to stay with the Group yet enabling you to give the extra effort you want to. It will get progressively more difficult to stay ahead. There will be an indicator visualizing the position towards the leader (seconds behind or ahead of the leader) and performance savings against the leader.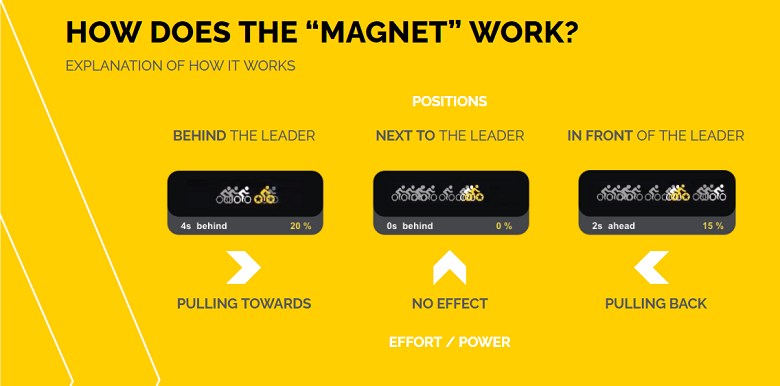 Joining a Group Ride from the App
Switch from ROUTE to EVENT at the bottom right corner
Switch to the UPCOMING EVENTS, type GROUP or GROU PRIDE in the search field, or search the EVENTS on your own
Download the required ROUTE here

Click on the REGISTER button to finish the registration

This button will forward you to the creation of the RACES and not GROUP RIDE

Joining a Group Ride in the Events section
Go to the EVENTS section on ROUVY.com
Scroll down
Click on SHOW ADVANCED FILTERS
In the ALL TYPES section, choose GROUP RIDE
Click on SEARCH
You can add other criteria; it is up to you.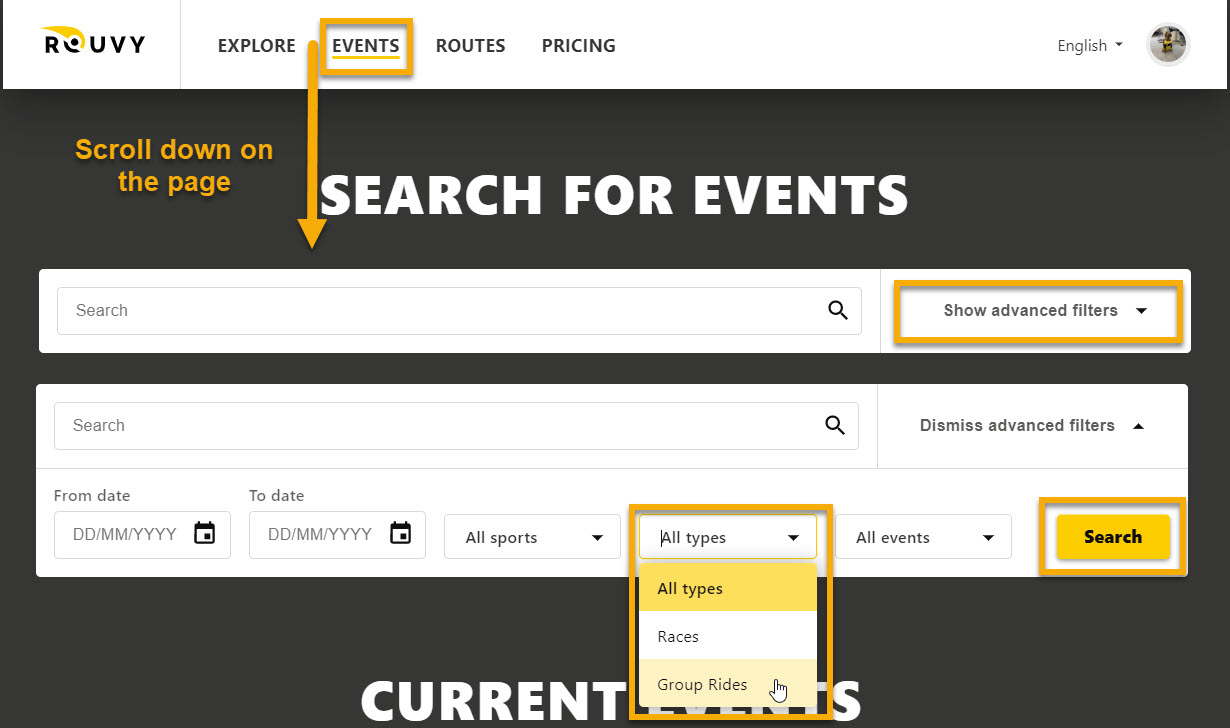 Creating a Group Ride
LOG IN at my.rouvy.com
Click on EXPLORE
GROUP RIDE
CREATE A GROUP RIDE
Or the plus button (+) and CREATE A GROUP RIDE
Fill in the mandatory fields (GR name, Date/Time, Smart trainers only, Password, Leader, Route name, Participants, Friends)
Click on the CREATE A GROUP RIDE button at the end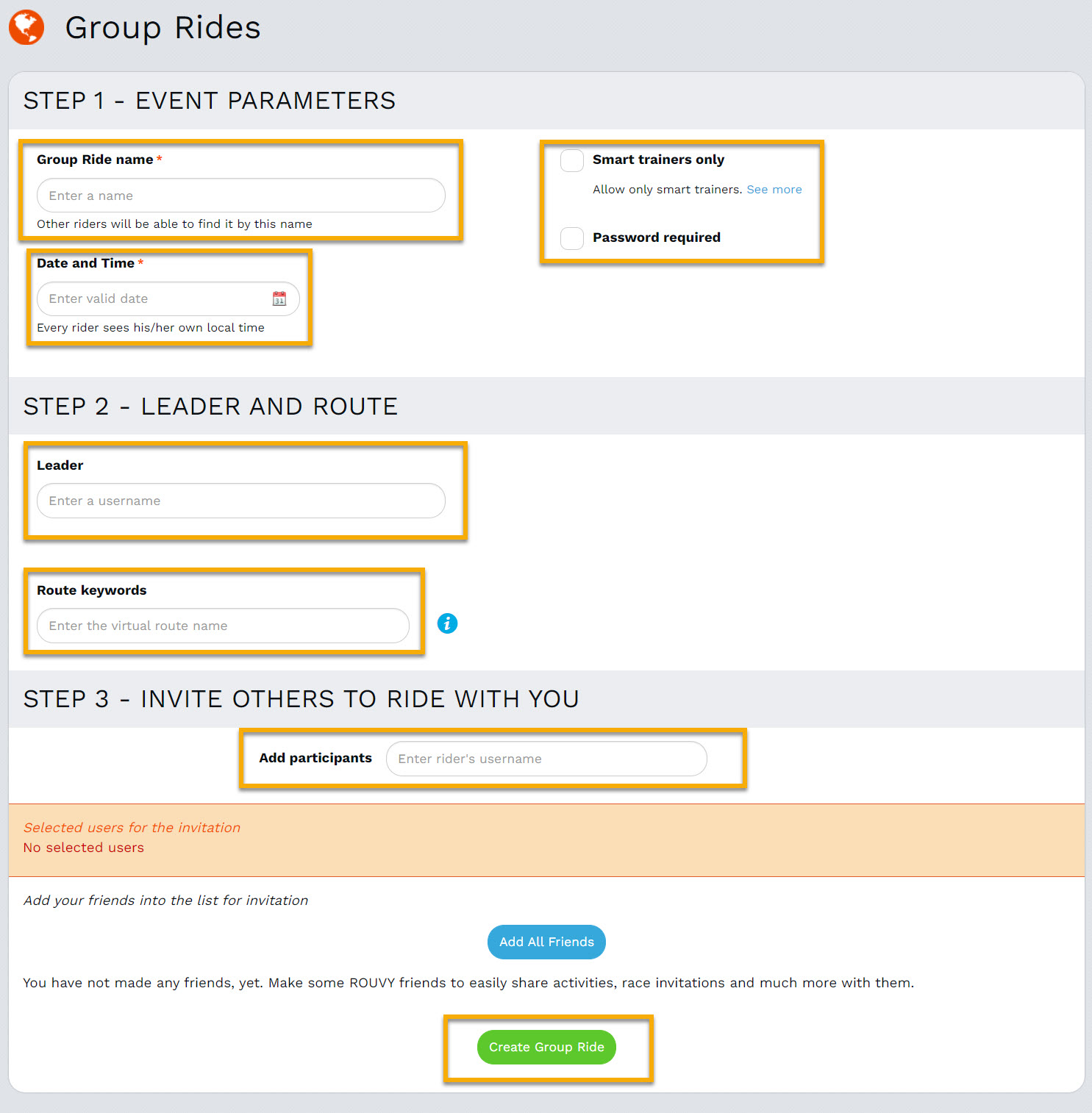 You can find your GROUP RIDE in the EVENT section > MY EVENTS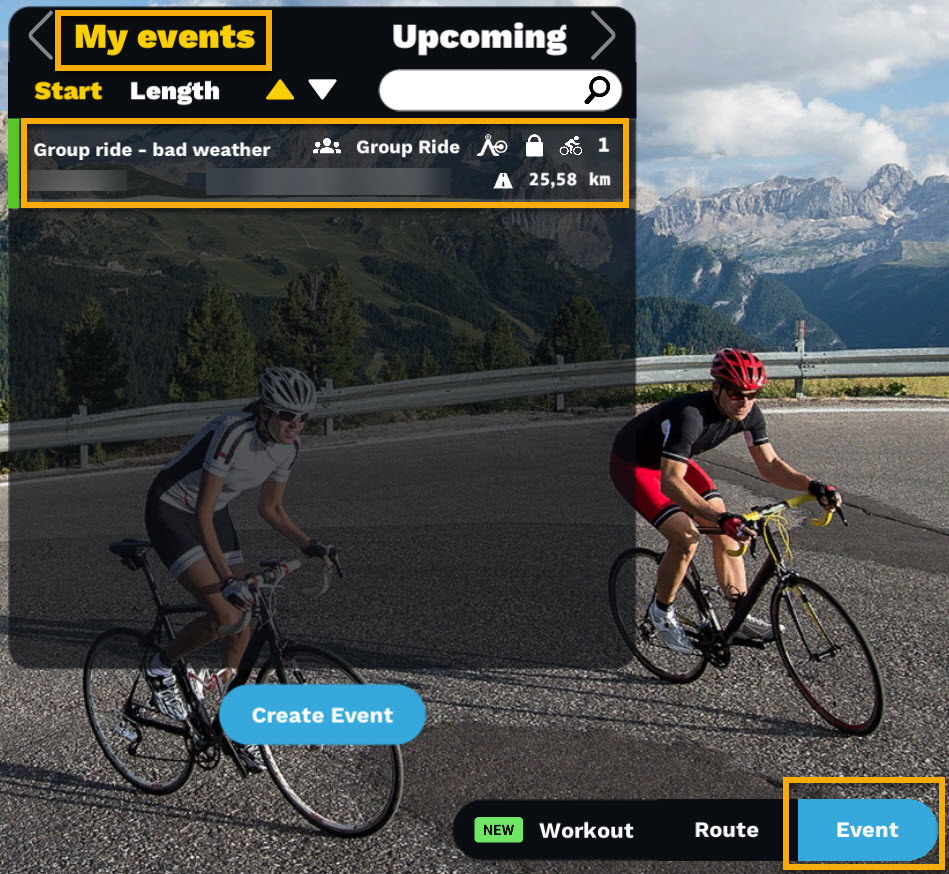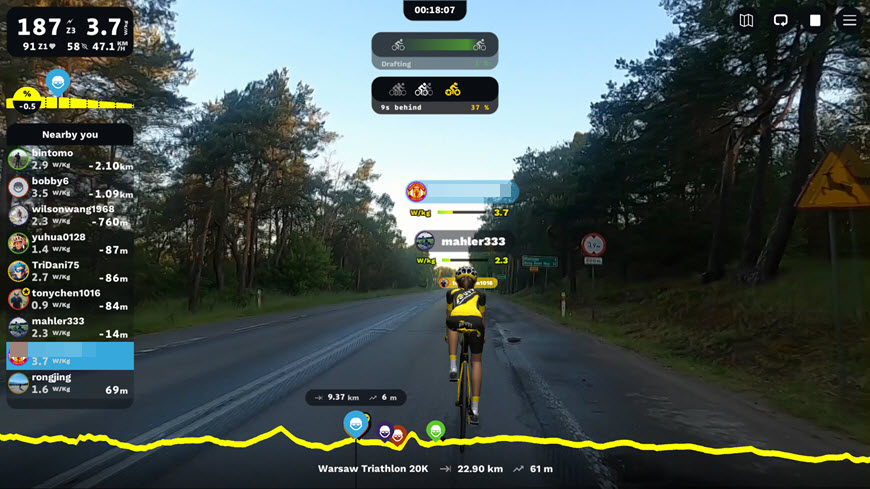 Video tutorial
---
For more help, please feel free to contact us.
Was this article helpful?
52 out of 59 found this helpful