Before a Ride
Fill in enough bottles depending on the number of hours you plan on riding. Usually, one bottle per hour is sufficient, or 500ml every 15 minutes.
Make sure you have a battery charger for your device as AR routes tend to drain batteries faster due to the graphics processing.
Place some towels nearby to mop up and prevent a pond from forming below your bike.
Have a fan or two nearby because it is easy to overheat, especially in summer and on hill climbs.
Join the Facebook Group
In this community, one will find that he/she shares a lot in common with the other ROUVY users. A rider can connect with others from all over the world who share similar cycling goals and passions. This Group will provide you with the latest news, updates, resources, shared videos, rides and user info that you may feel free to comment on and get involved in and be motivated by.
Take Part in the ROUVY Cycling Career
Complete the tasks on every LEVEL of the cycling CAREER to eventually make it to LEGEND status. This is not just a destination but also a journey that motivates you to succeed every step of the way.
Complete Challenges
Challenge yourself and compete with others. You can earn a badge that will be visible in the App and at ROUVY.com, for certain challenges you can get a unique cycling apparel and at ROUVY.com.
Read the Challenge Description
Before the CHALLENGE starts, go to:
Open EXPLORE

Select CHALLENGES

Find the CHALLENGE you want

Click on it and read the description (time, tasks, routes)

Choose Your Mode for the Challenge
It is possible to ride a challenge both in TIME TRIAL and JUST RIDE mode.
However, be careful! In Just Ride mode your REALITY LEVEL should be set to 100% for the Challenge to be counted. You can change your Reality Level in App Settings.
In Time Trial mode you do not have to worry about that.
If you complete the Challenge you will get your Career Coins.
See What Routes You Have Ridden
Starting from App version 2.17.0 you will be able to see your cycling progress on route tiles:

Choose the route you want to complete, or start a new one!
Virtual Partners
You can compare yourself to your previous ride time. Ride a route in TIME TRIAL mode, and you can challenge yourself again and again and even choose a few of your former times in one ride at the same time.
Hide Other Users
If you want to enjoy your route alone, now you have an option to hide other users. Just go to the SETTING in the App and scroll down to the "Hide other users" switch.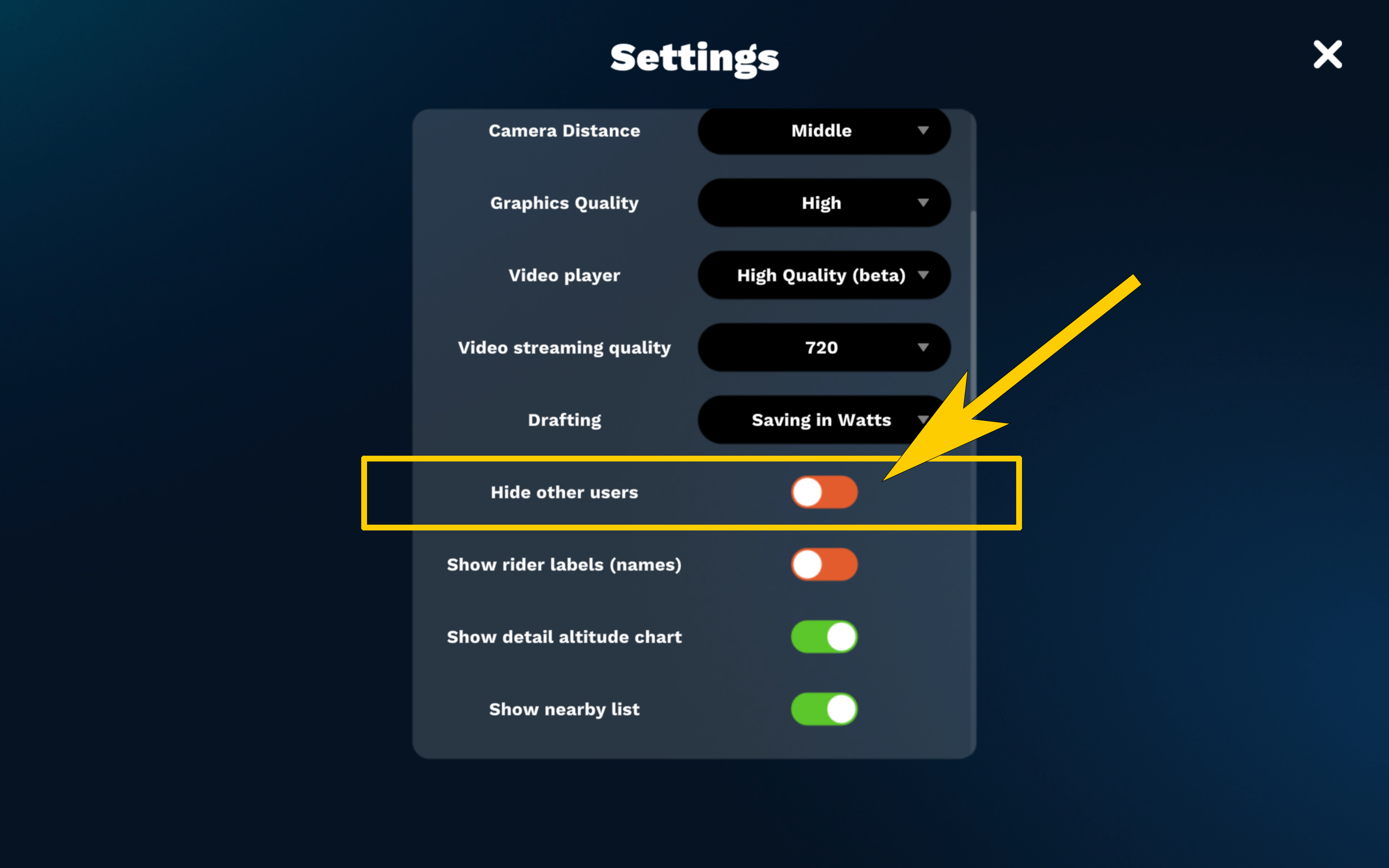 If you enable this feature, all other riders will disappear from your route, including their pins.
Ghost riders will continue to ride with you, if you want your ghost riders to disappear too, take a look at this article to learn how to manage them.
PLEASE NOTE
This feature is NOT available during Group Ride or Race.
Other riders will still see you - this only blocks them from your view.
Try a Little of Everything
You can ride just by yourself. You can try our GROUP RIDES and ride with other people who are better than you but still try to match their pace. You can register and enter RACES. Challenge other people and compete with them. You can also ride alone on either an AR route or a non-AR route (no avatars, user-uploaded video) wherever in the world you'd like to explore and watch the landscape unfold. There is a lot ROUVY can offer.
Hide or Show Other Riders' Names
Starting from version 2.18.0 you can show or hide riders' names (their labels above their heads) on the route, if you find it disruptive during the ride.
Just go to SETTINGS and turn on/ off the switch in SHOW RIDER LABELS (NAMES).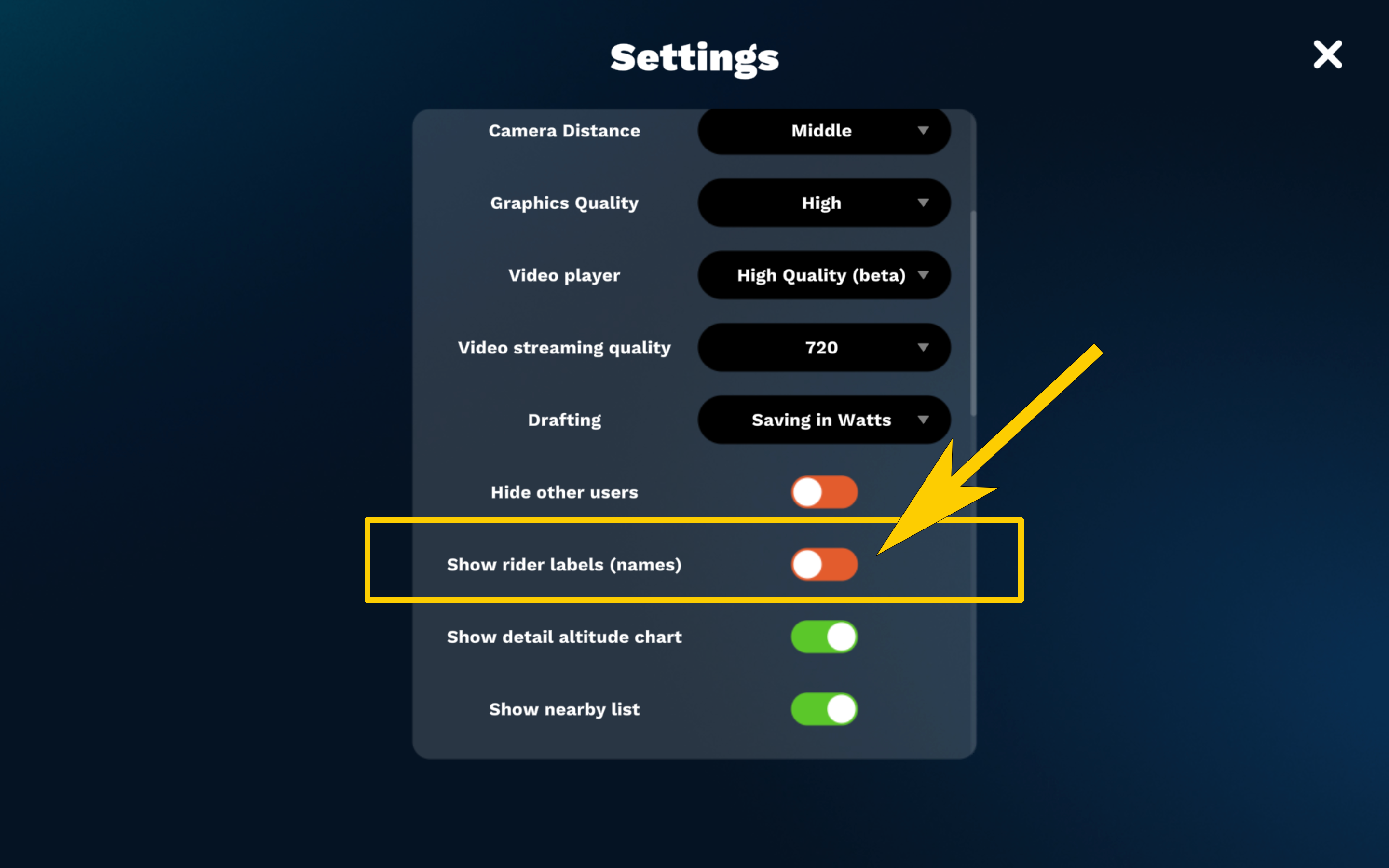 Watch Mode
Do you have a free or recovery day but still want to be involved and watch your friends see how they battle up the hills or compete with their friends in a RACE? You can use our WATCH MODE to see them.
For more help, please feel free to contact us.