This article provides you with a quick and concise overview of all the vital information about the ROUVY App.

The ROUVY App is the heart of your ROUVY cycling experience - the place where you can choose your routes, track your progress, and explore various features and statistics designed to help you achieve your cycling goals.
Every new ROUVY user gets a free 14-day trial to explore the ROUVY world of cycling.
Download and install the ROUVY App using this link. Once you have downloaded the app, you can
IMPORTANT
You use the same credentials to log in to your web profile on ROUVY.com and into the ROUVY App.
If you have already created an account on the web, just use the same email and password combination to log in to the ROUVY App.

If you don't have a ROUVY account, follow the steps in this section to create an account in the App.


App Dashboard
Once the ROUVY app is downloaded and successfully installed, log in to the app and have a look at what you can find on the dashboard:
to your left, you can SEARCH any specific route, or quickly click through ROUTES, EVENTS, and WORKOUTS: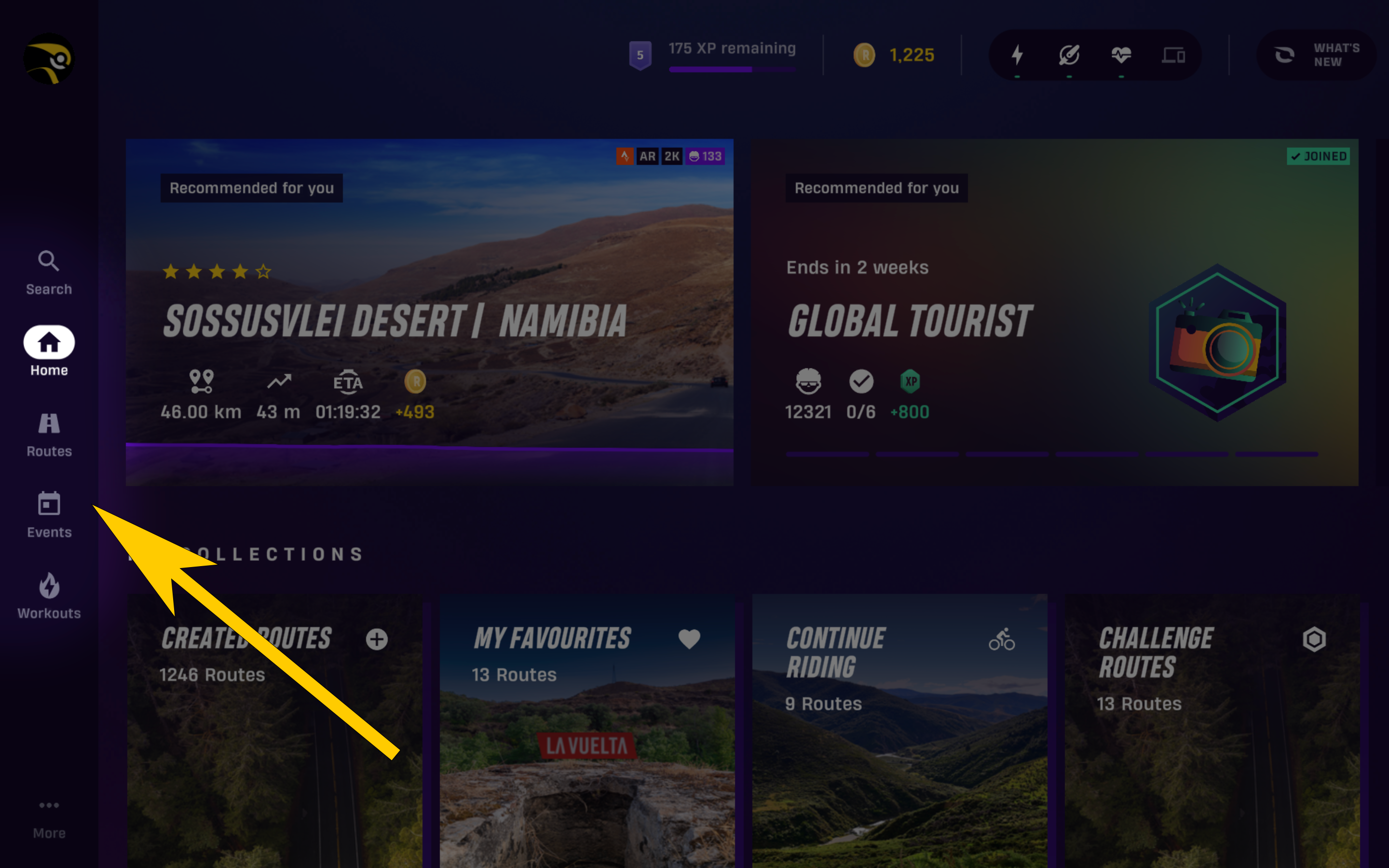 | | |
| --- | --- |
| ROUTES | Find the routes from all around the world here, including your favorite ones, and the ones ROUVY recommends specifically to you. |
| EVENTS | Here you can join paced rides, group rides, or races. |
| WORKOUTS | Here you have your workouts and training plans. Browse through difficulty levels or get inspired by cycling professionals. |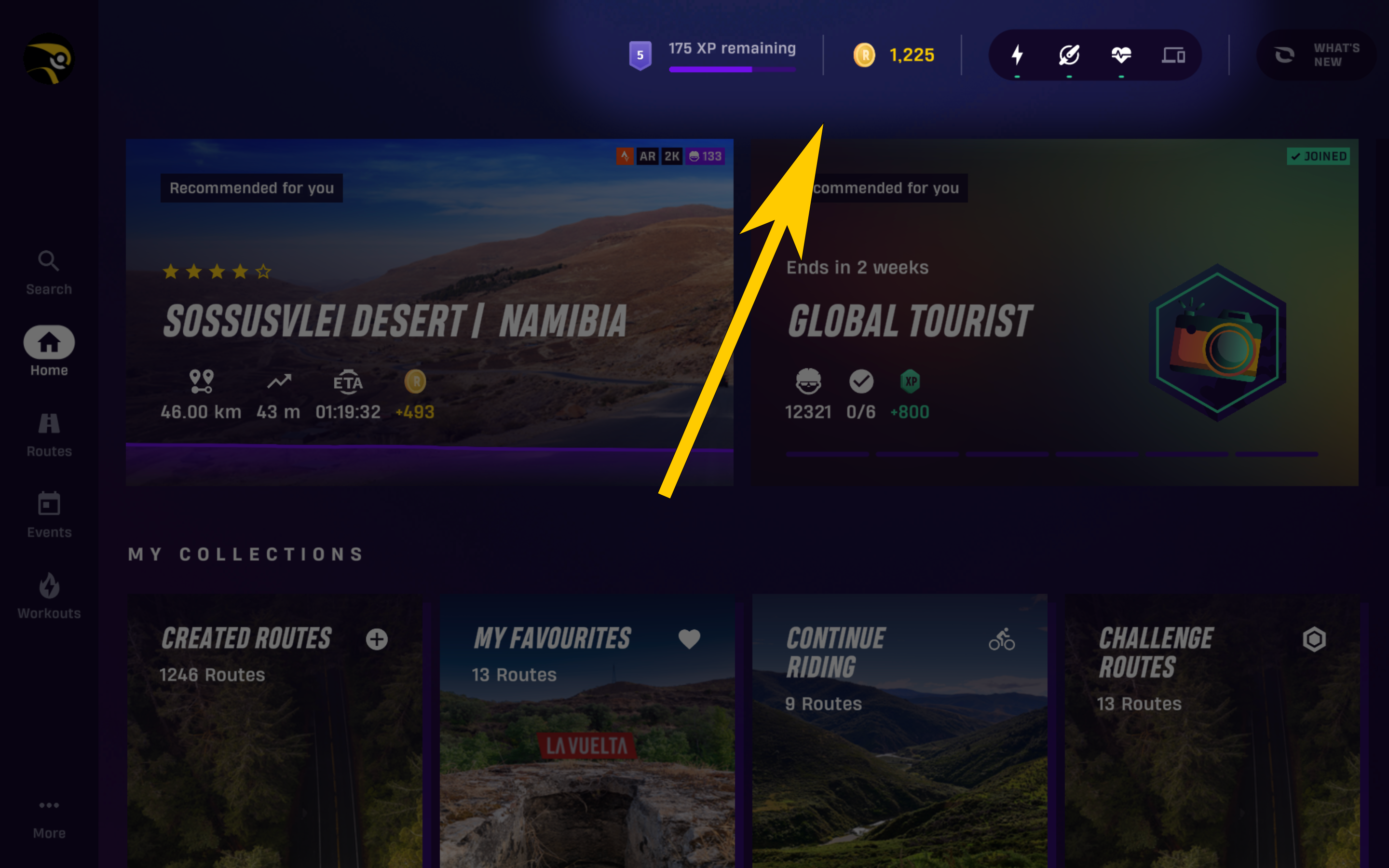 if you click on your ICON in the top-left corner - you will be taken to your user profile, where you can see your Career level, adjust your personal data, and Customize your Avatar.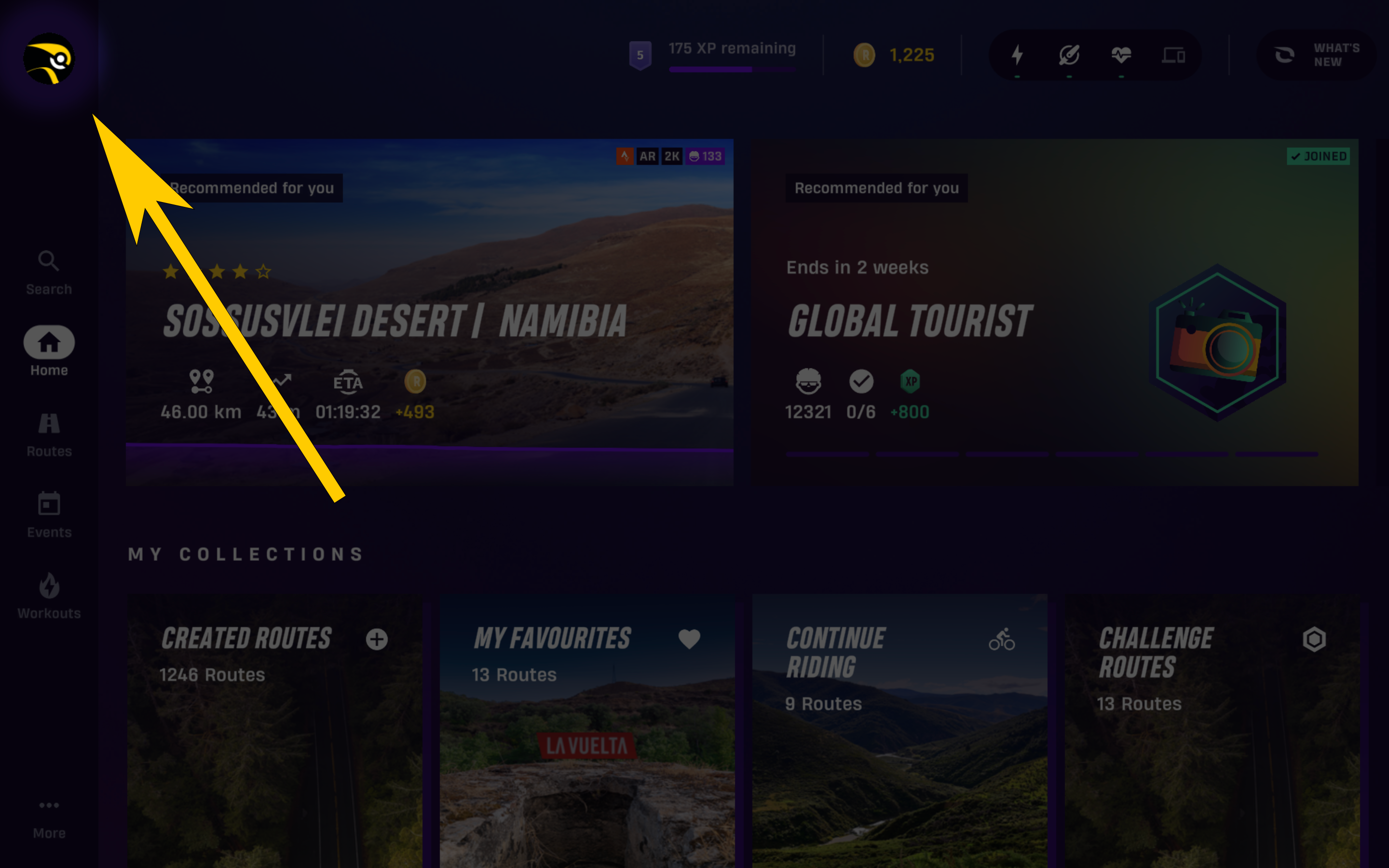 scroll down to see challenges, current events, recommended routes, and workouts.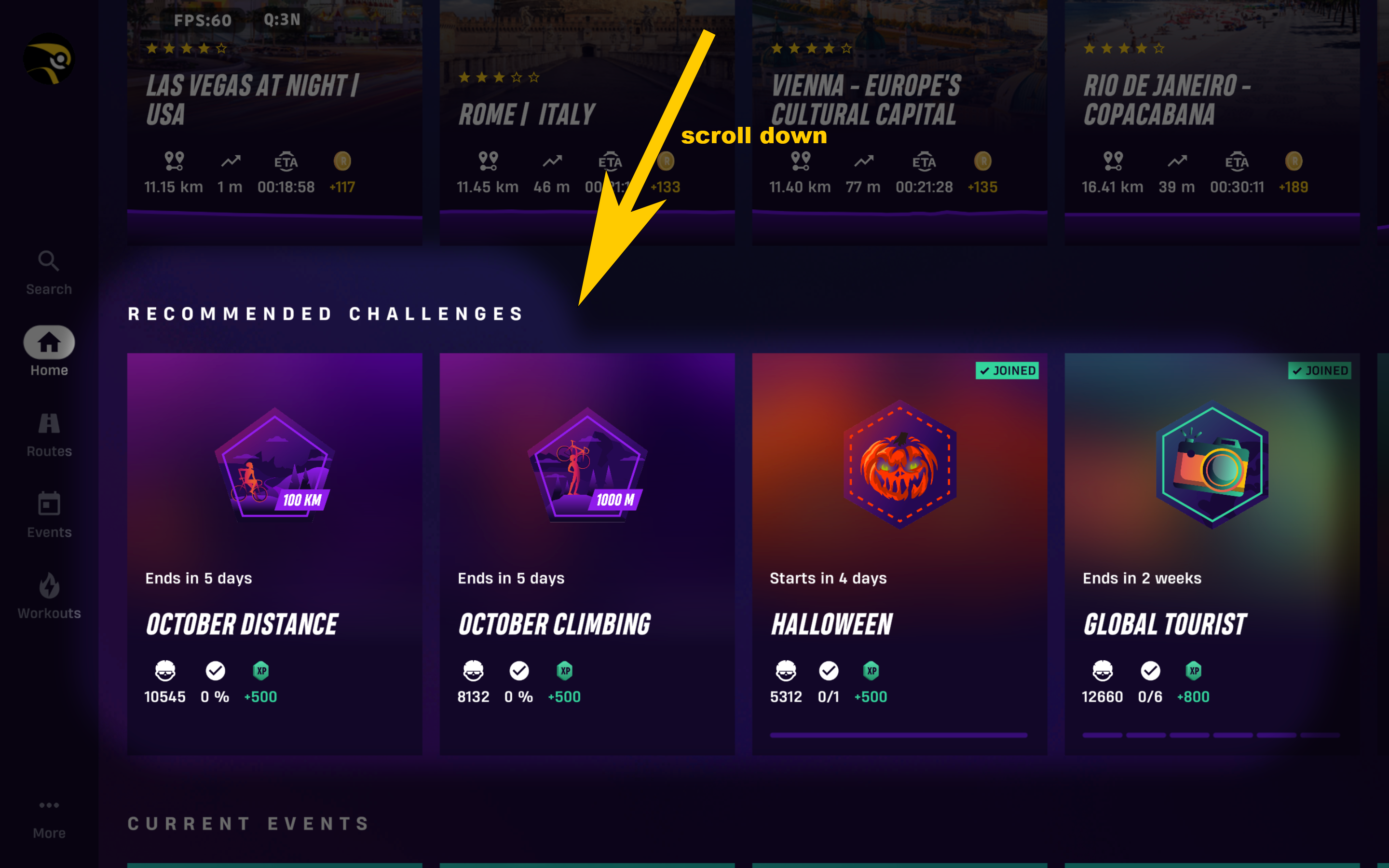 once you've selected your route, click on the route tile to get more information about the route, including its length, elevation, expected duration, original country, and much more.

Scroll down to see the alternatives to this route.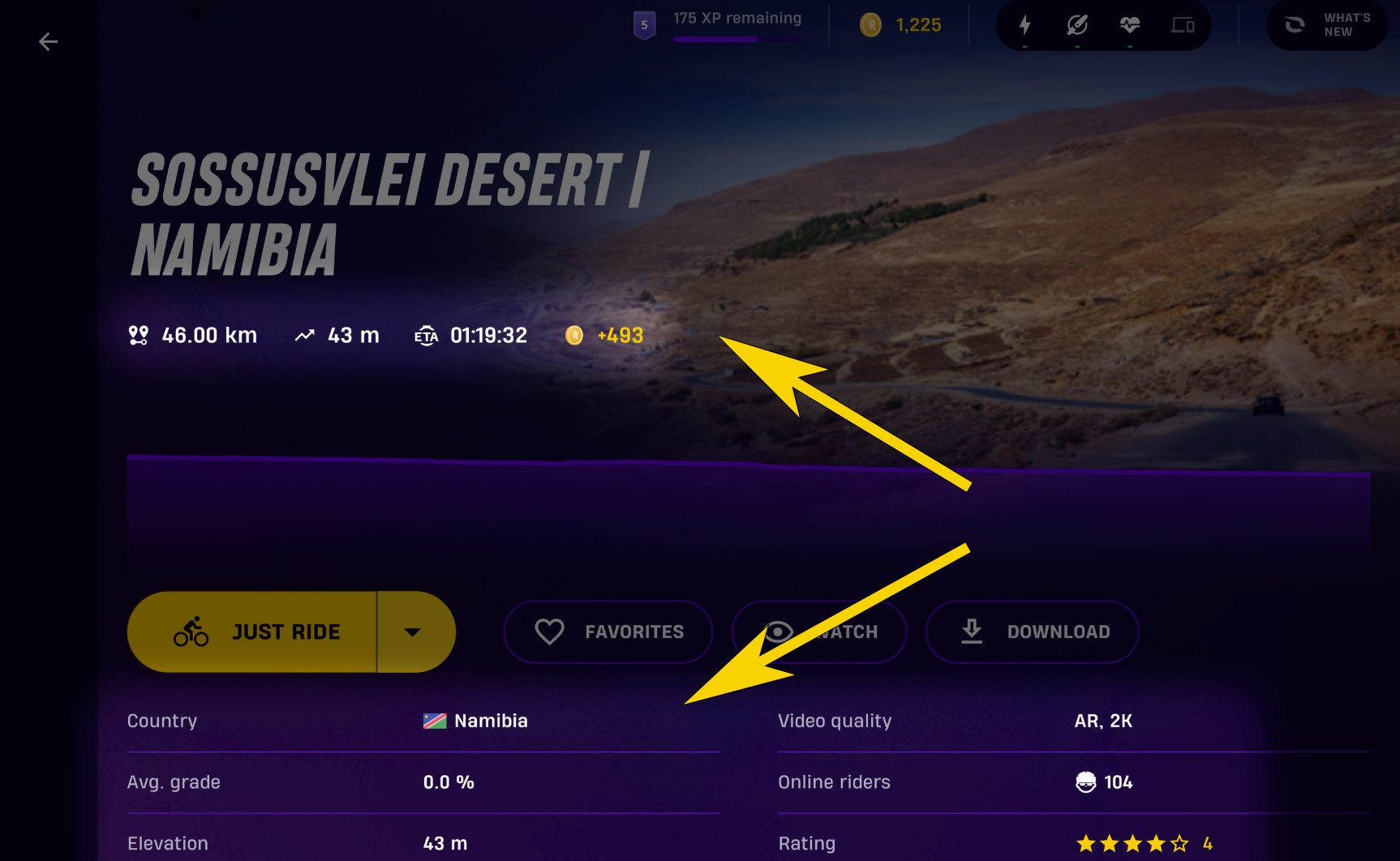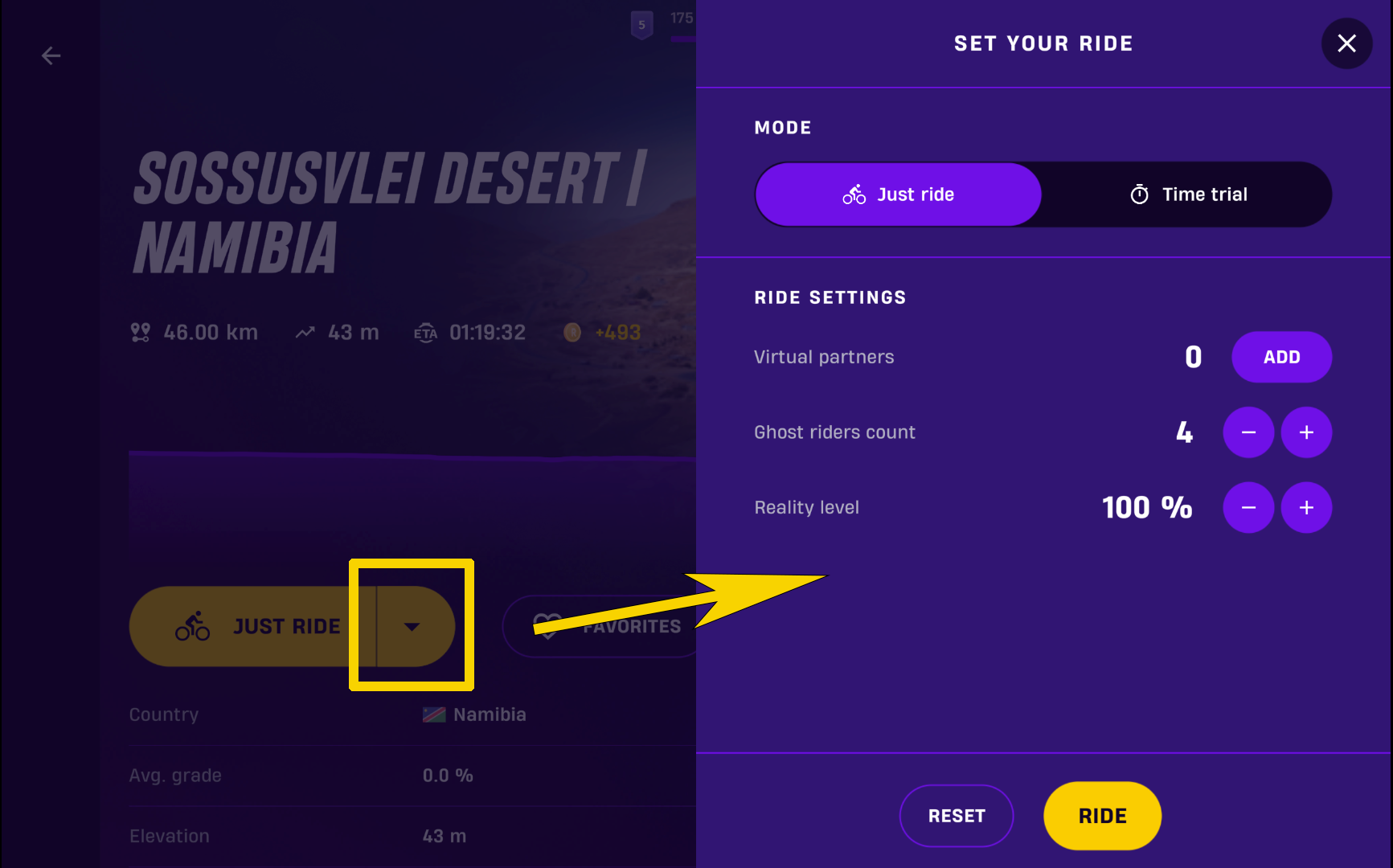 Then just click on the yellow RIDE button and enjoy the ROUVY cycling world!
If you ever need to refresh what new features the ROUVY App offers,
click on WHAT'S NEW icon in the top-right corner: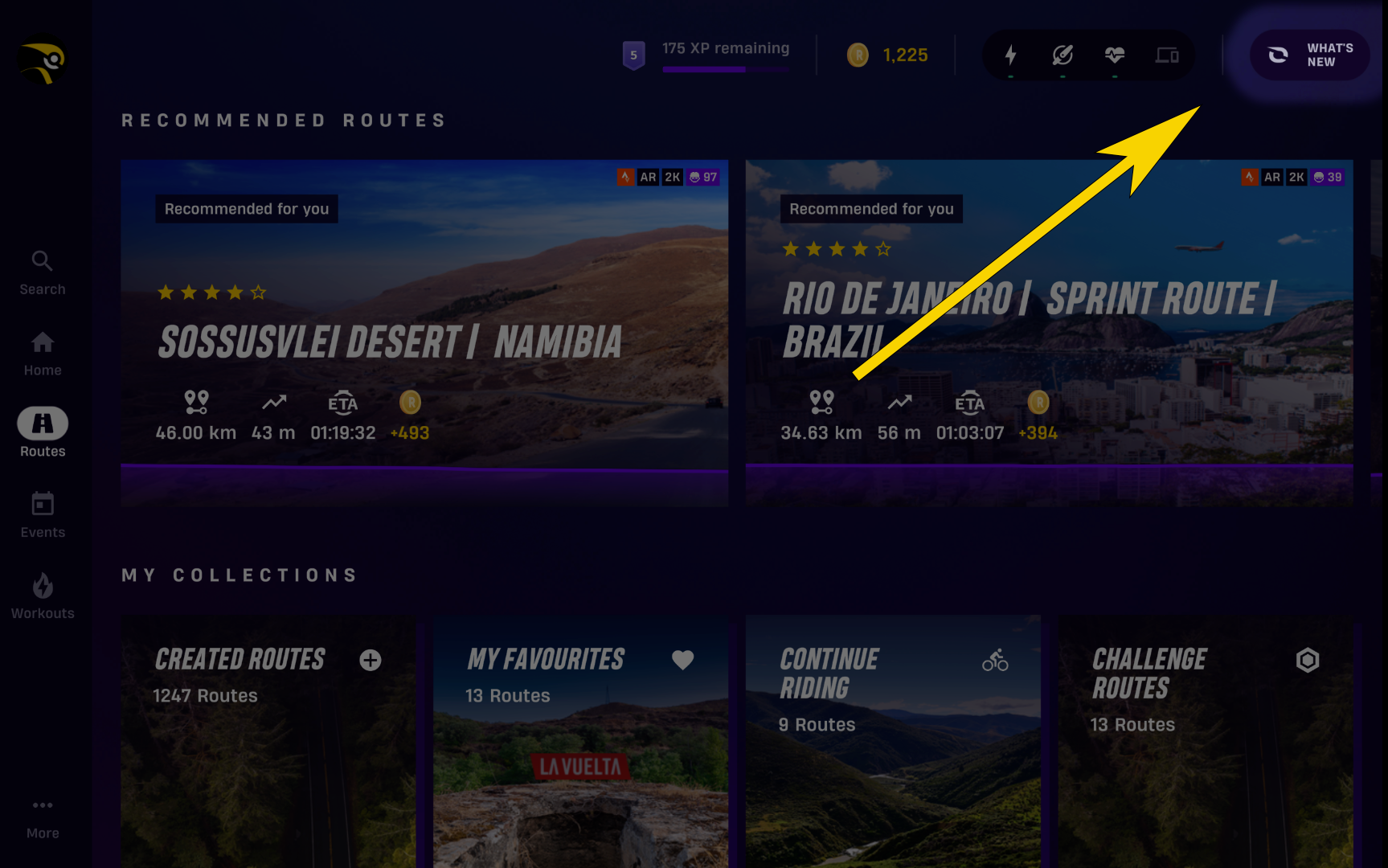 If you want to change any settings in the app, click on MORE in the bottom-left corner, and check this article for more information: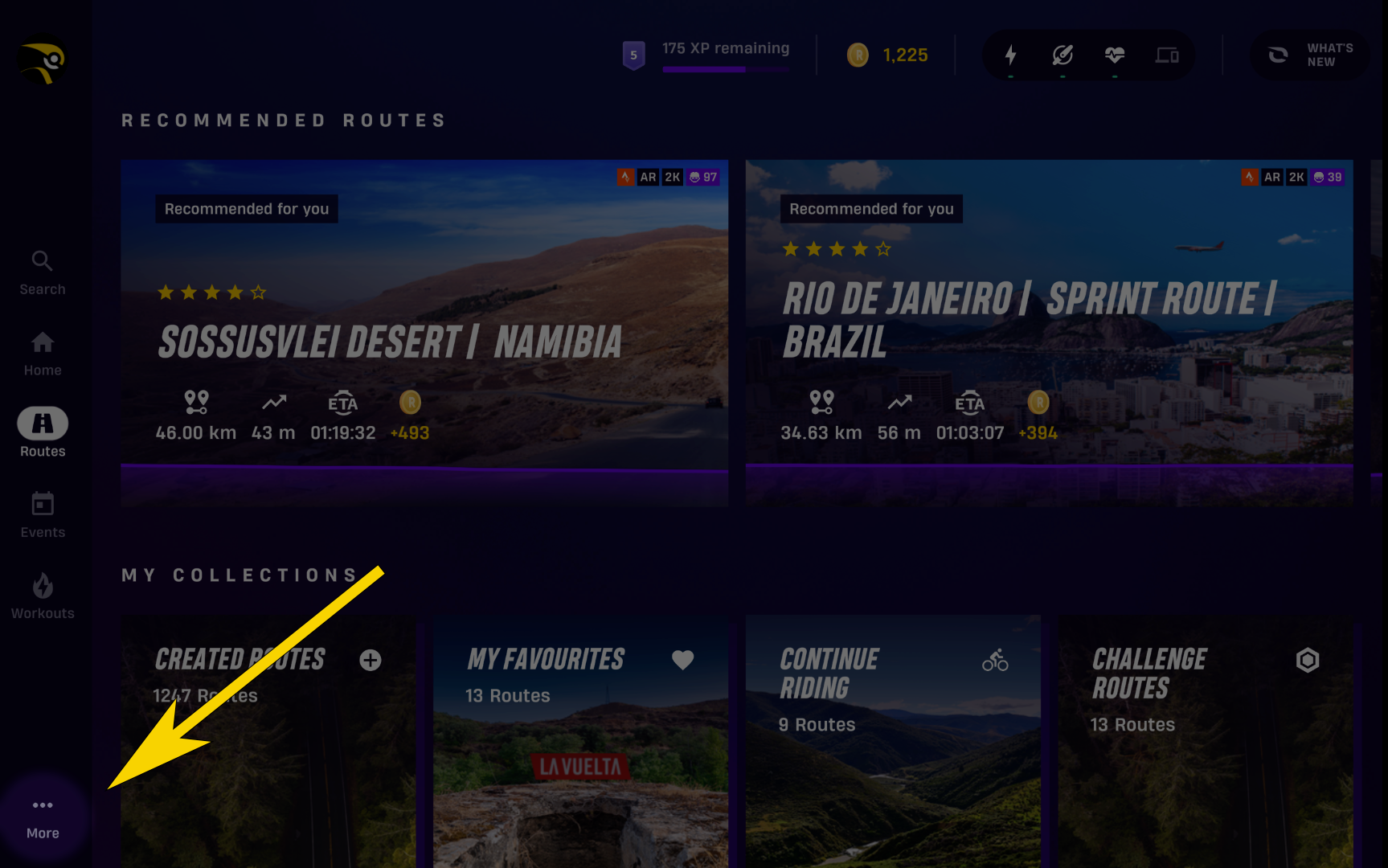 Create an Account in the App
If you don't have an account on ROUVY you can create it directly in the app.
To create an account using the App:
First, open the ROUVY App and click on the SIGN UP button at the bottom of the screen: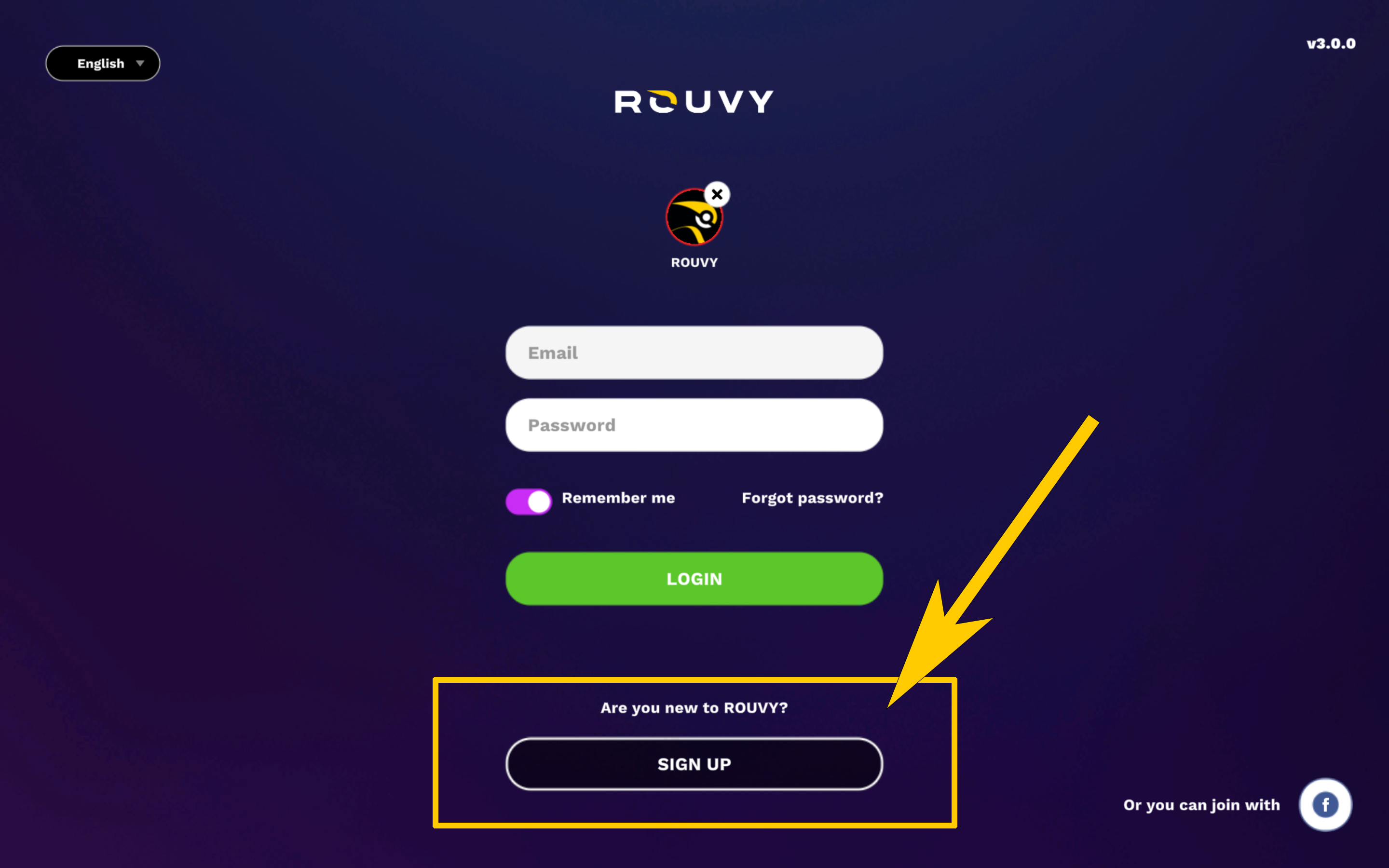 Fill in your email address, create a strong password and confirm it, then click on the SIGN UP button: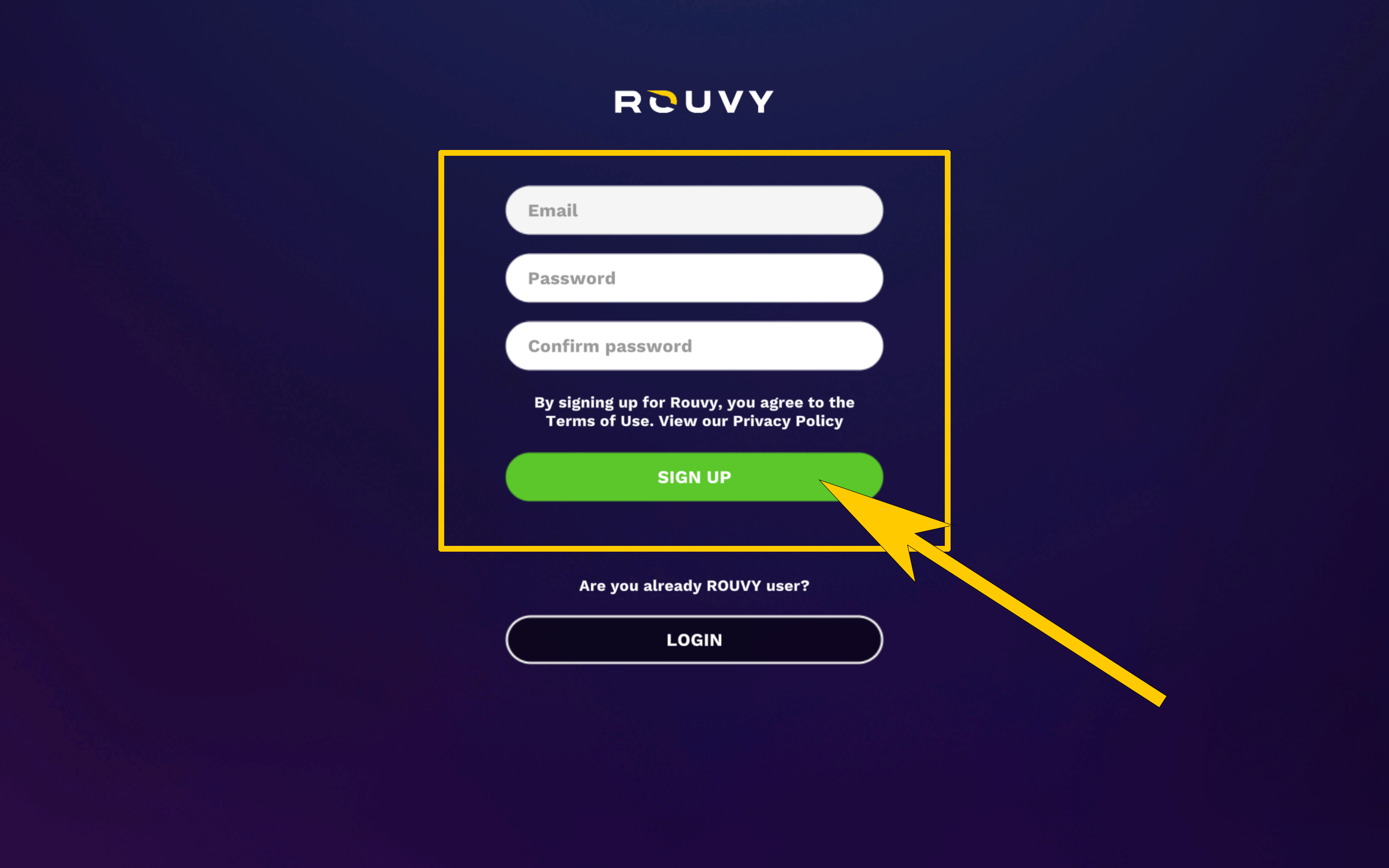 You will see the confirmation screen that your account has been created.
Click CONTINUE, fill in your metrics and nickname to be shown in the app, and answer two simple questions to tailor your ROUVY experience.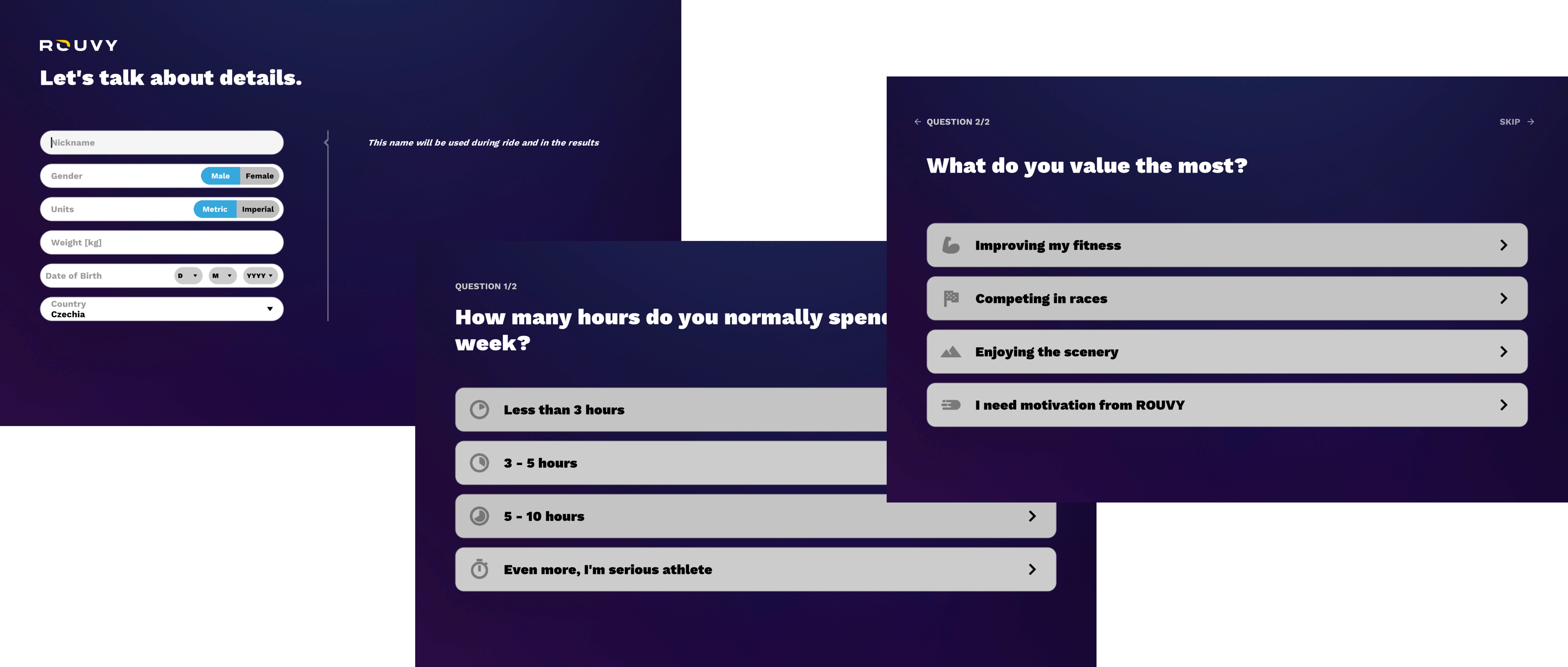 then it is time to connect your trainer, you can follow the steps and auto-connect by clicking on the button START LOOKING FOR TRAINER to the right, or you can connect any trainer or sensor manually by clicking CONNECT MANUALLY to the left.

More information about connecting the trainer is in this section.
The list of supported trainers is here.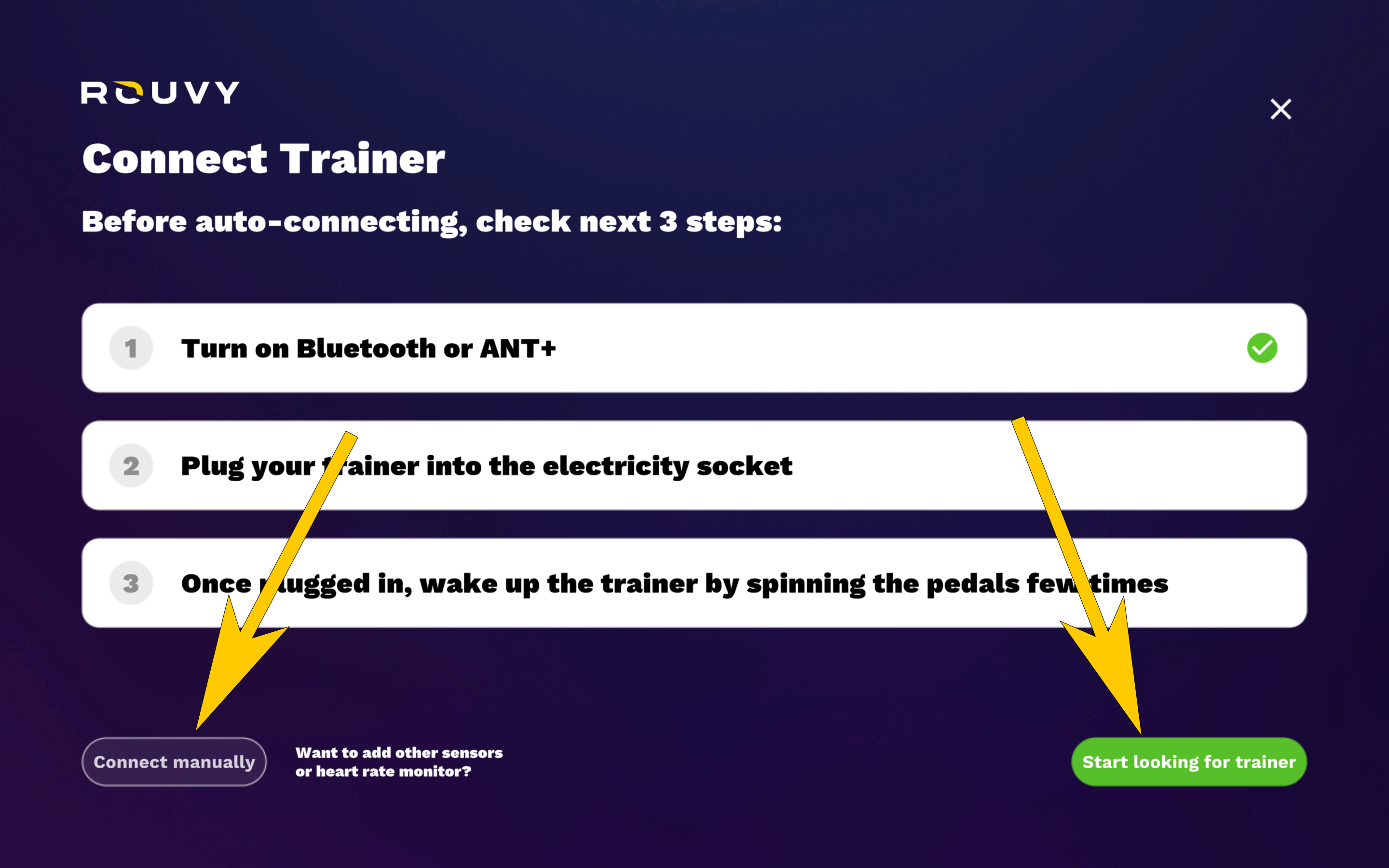 After your trainer is connected you can have a look at your dashboard, choose a route, and start cycling!


Our tips
Explore more ROUVY features by checking out the following articles:
ROUVY CAREER WEB SETTINGS IN-APP SETTINGS
ROUTES CHALLENGES WORKOUTS EVENTS
VIRTUAL PARTNERS GHOST RIDERS GROUP RIDES
Make sure that your trainer or sensors are up to date. We recommend calibrating your trainer and updating your firmware regularly.
If you have a Smart Trainer, always make sure your trainer is connected as CONTROLLABLE so that you can feel the gradient changes.
Make sure that your trainer or sensors are connected only to the ROUVY App. You can troubleshoot any issues in this section.
If you want to enjoy the scenery alone, you can HIDE OTHER USERS in App SETTINGS. You can take a closer look at this feature and more tips in this article.
If you want to enjoy the ride with other people, you can join a paced ride, a group ride, or add your own virtual partners.
We strongly recommend downloading the route video before your ride, especially before a RACE organized by ROUVY.

For more help or information do not hesitate to contact us.