Augmented Reality Vocabulary
127 out of 151 found this helpful
updated
---
---
AR means Augmented Routes. We combine amazing videos filmed in the best cycling locations worldwide with our own 3D rider avatar models, split gates and banners, and more. Video and 3D models together give you Augmented Roads. Riding on Augmented roads gives you the best feeling of outside riding when riding on your trainer indoors. Thanks to our online capabilities, you will see other riders on the same route that you choose in real-time.
---
Route mode
This is an individual ride if you want to ride at your own pace and do not plan to compete. You can either ride in Training Mode (TM), which allows you to move freely on the route and skip certain sections. This is useful if you'd like to return to a very long route and would like to begin again further along. In Time Trial mode (TT), you will be timed, and your activity will appear on the route leaderboard, where you can see your time compared to other riders who rode on the same route. Riding prescribed routes or challenge routes in Time Trial mode will count towards your career.
NB: Riding these routes in Training Mode will not count.
Event mode
If you feel competitive, you can join ROUVY official and non-official Races under the Event tab. Here you will race in your local time against other riders in real-time. You can also create your races from my.rouvy.com by clicking the plus button in the right top corner. You may enable it as an all-trainer or smart trainer race. You can also ride with others in a non-competitive way, as a Group ride, and here we help level the differences between performance levels.
It means you can ride shoulder-to-shoulder with professionals or much stronger riders, and all finish at the same time.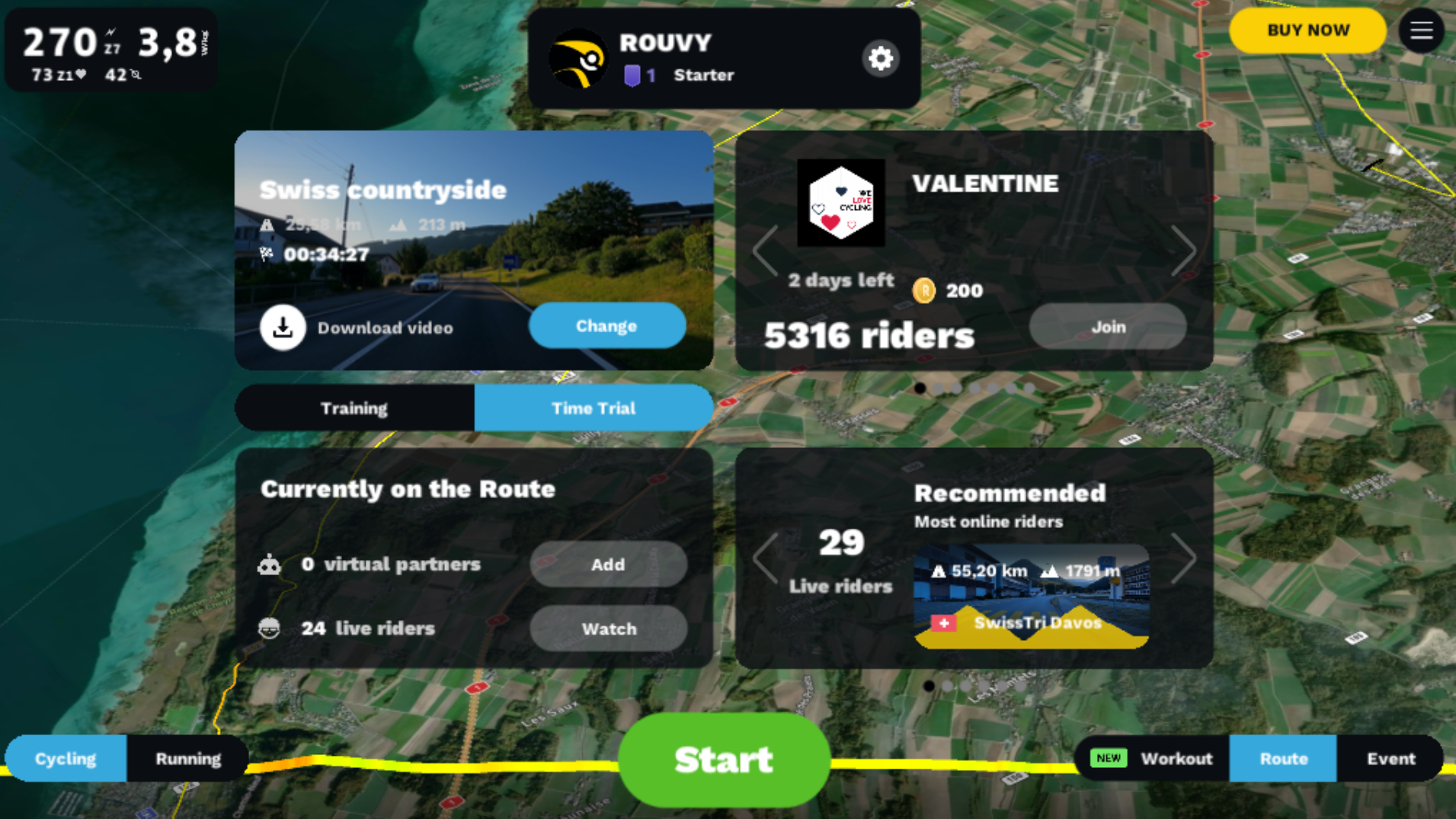 ---
Avatar
An Avatar is the virtual representation of you. You can choose between a male and a female model. Both can ride either a road bike or a Time Trial bike, and you can also customize the jersey and skin tone. You can also unlock new custom jerseys by riding official ROUVY and partner events.
In settings, you can also choose between 3 view modes that change how you see your Avatar: Me, Near, Middle or Far.
'Me' means that you don't see your avatar and only other avatars if they are nearby.
'Near' means you'll see your avatar close up.
'Middle' means you will see your avatar in the middle distance.
'Far' means you will see it at a distance.
---
The Cycling Career
This is an optional feature and a way to motivate yourself by working your way up.
---
Challenge
We choose routes for you to complete that have something in common and create themed challenges. Make sure to ride the routes in Time Trial or Race mode.
---
Drafting
This is the simulation of the effect you experience when riding behind other riders.
Because you are not experiencing as much wind resistance as the rider in front of you, you are saving some of your energy. The drafting is strongest 3 meters behind the other rider because if you ride closer than 3 meters, you are in fact already starting to overtake the rider in front of you. You can see the drafting indicator in the top middle part of the ride screen.
---
Virtual partners
If you would like to have some competition or extra company, but no one is around to ride with you, you can select any number of virtual partners, even past activities of only yourself based on previous rides on any route that were done in Time Trial Mode, not Training Mode. This would give you different options regarding the pace you need. Multiple virtual partners can create a feeling of a race.
---
Splits are predefined points on a route that gives you information about your time compared to other riders on that route. Each route has splits positioned differently and if you don't feel like splits are important for you, you can turn them off in the settings in the app.
---
AR Routes
All Routes in ROUVY are videos of real roads from around the world.
You can either stream the video (if your internet connection is fast and stable) or you can download them before your ride. For AR races and other events, we recommend downloading the video in advance well before your start time. You can also select different video qualities that will suit your device the best.
For example, if you are using your mobile phone to ride on ROUVY, the 720p video quality will be more than enough and will take up less disc space. You may need to delete older videos to keep space available on your hard drive. If you however have 4K television, we also offer up to 2K video resolution.
---
Workouts
In cycling, structured training is one of the most efficient ways to improve your fitness or reach short-term and long-term training goals. Where is the best place to do a structured cycling workout, you may ask? Of course, it is at home, in your training cave, on ROUVY - where you can have greater control over the environment and focus only on your training and performance.
Once you choose the workout, you can also select any of your favorite AR routes and enjoy doing a workout in the beautiful landscape of, for example, the Alps or the urban environment of London.
---
Was this article helpful?
127 out of 151 found this helpful