In this article, we will explain in detail all the settings you can change and adjust in your ROUVY profile on the web ROUVY.com. Log in into your account on the top-right corner of the page.
On your Dashboard you can see a brief overview of your subscription, career, and activities together with button to redeem a code and manage devices.
You can change your Account and Profile Settings on the web, as well as have quick access to activities, workouts, challenges, races and many more - all explained below.
Do not forget that we have an article dedicated to In-app Settings, as well as another one on Avatar Customization.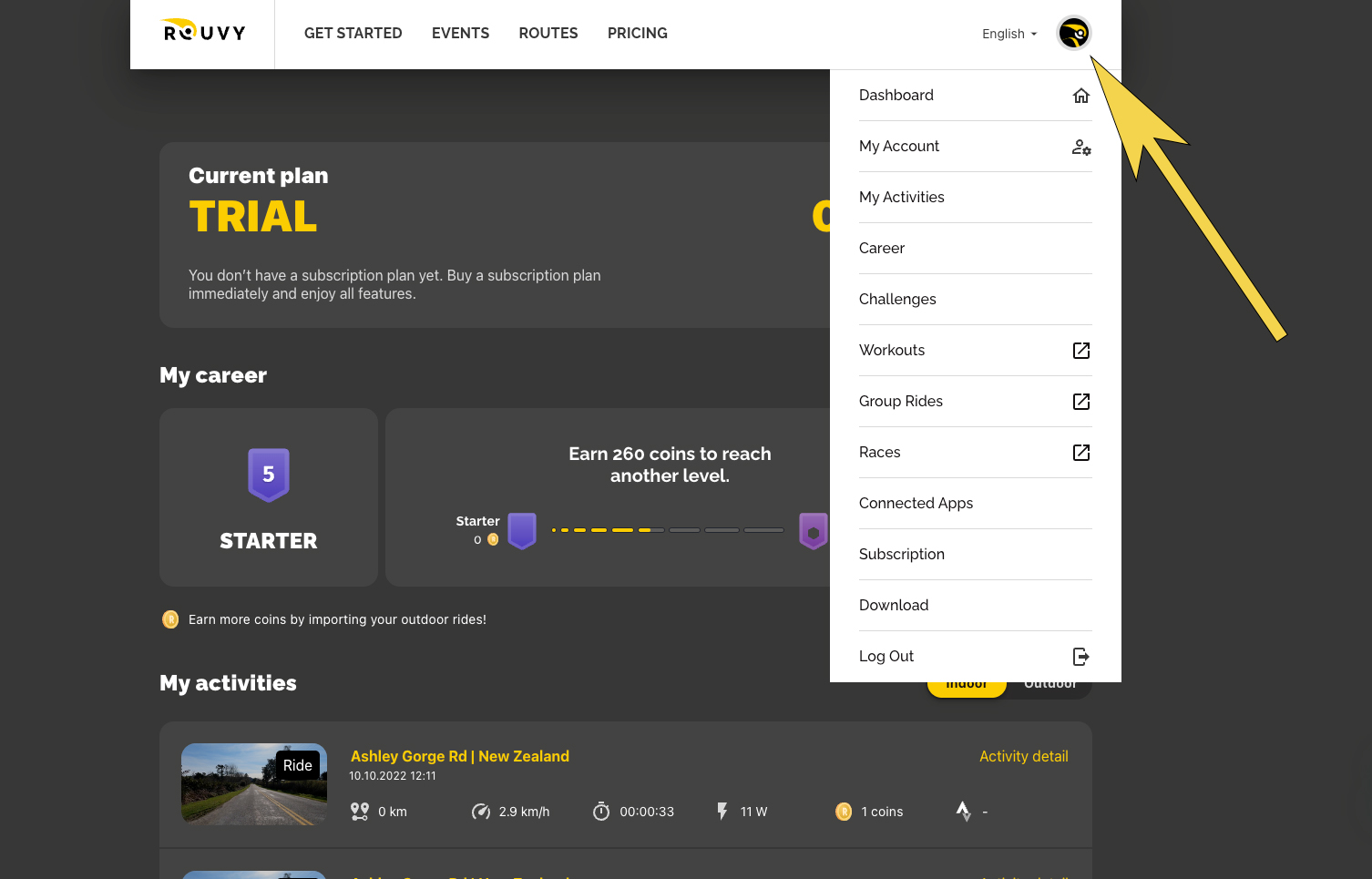 Edit Your Account and Profile Information
To be able to adjust this information on the web you need to:
Head to

ROUVY.com,

LOG IN to your account with the email and password,

Click on your PROFILE on the top-right corner,

In the drop-down menu you'll see multiple actions available on the web,

Go to MY ACCOUNT.
On the top you can change your picture.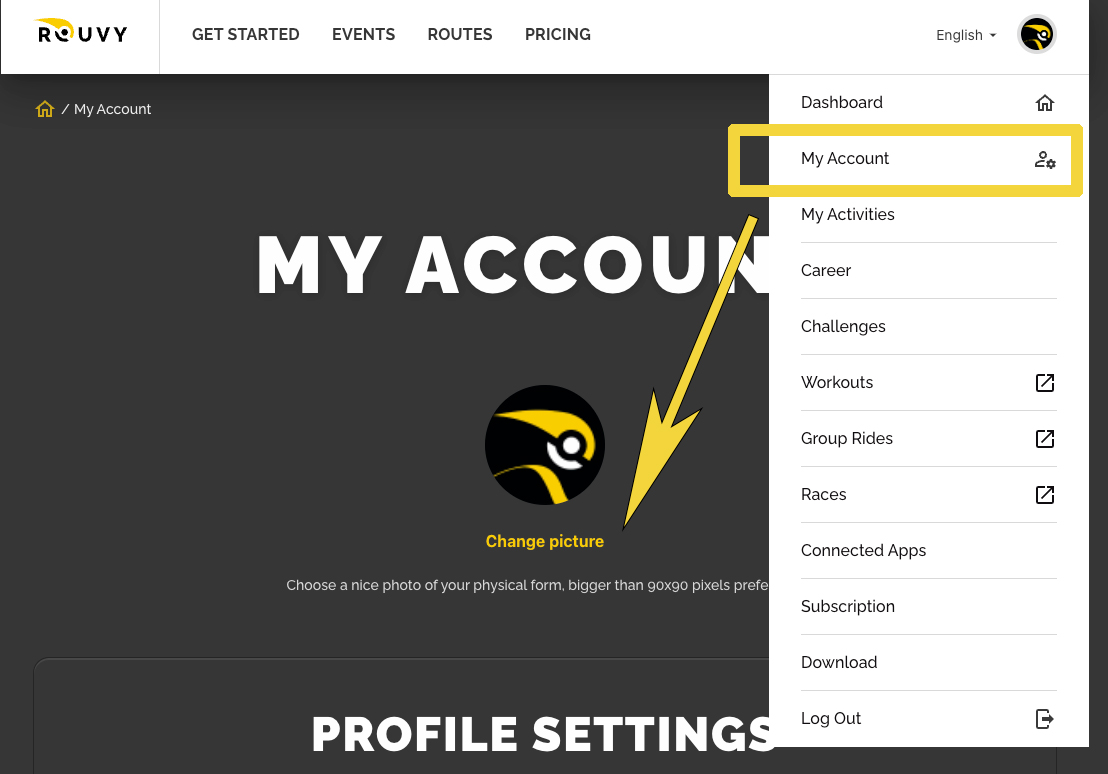 Below your picture you can see your PROFILE SETTINGS and ACCOUNT SETTINGS.
You can change those by clicking EDIT buttons under each category.
Please note: ACCOUNT setting include Account privacy setting that requires a bit more explanation.
Private means your profile will be hidden from all leaderboards. ROUVY never displays personal info like date of birth, biometrics, telephone number or email to other users.
Public means your profile will be visible on leaderboards. ROUVY still won´t display your personal info like date of birth, biometrics, telephone number or email to other users
You can also change password or deactivate your account here at the bottom.

Please note:
If you choose to deactivate your user account, you will not be able to use your USER PROFILE in ROUVY, PowerTap,
or any other partner applications.
Your ROUVY subscription will be canceled automatically.
The subscription of Android or Apple purchased via Google Play, or iTunes apps must be canceled manually
in your Google Play or iTunes account.



IMPORTANT!
You NICKNAME can be changed only on my.ROUVY.com:

click on the top-right corner SETTINGS ICON,

go to ACCOUNT SETTINGS, and scroll down to USERNAME CHANGE.
If you want to change your E-MAIL address, contact us at support@rouvy.com. You can not change it on your own.
Your PHONE NUMBER primarily helps in contacting the Customer Care department. It speeds up the tracing of your USER PROFILE and allows us to identify customers who contact us over time, the incoming phone line, or WhatsApp.
The country flag means the Phone Country Code (ie USA +1), then you fill in the rest of the phone number.


Other Functions of the Web Account
Under your Dashboard, My Account, and My Activities you can see more functions explained below.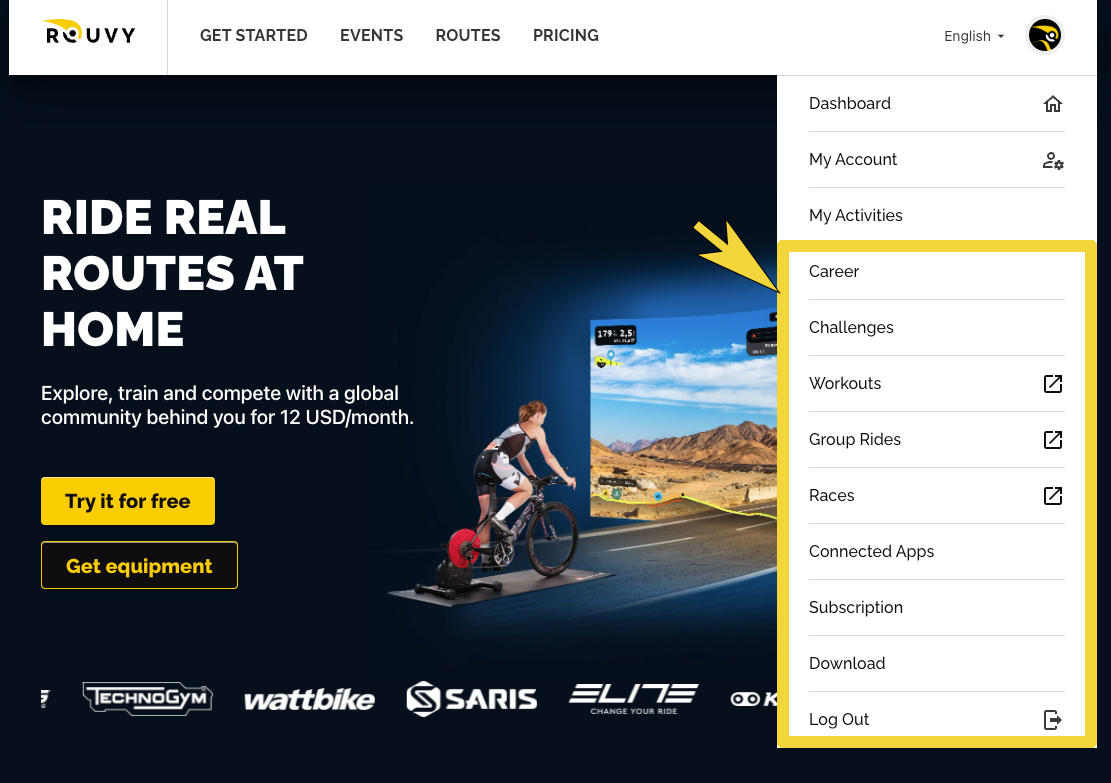 CAREER

This will should you the dashboard about your ROUVY career level.

Career is explained in detail in this article.

CHALLENGES

Here you will se both Joined and Available challenges, as well as your history of finished and unfinished ones. For more information about Challenges, please take a look at this article.

WORKOUTS

This will bring you to ROUVY workouts section. To learn more about workouts please take a look at this article.

GROUP RIDES

This will take you to the Group Rides section, more on the topic here.

RACES

This will take you to the Races section, more about ROUVY Races can be found here.

CONNECTED APPS

Here you will find all the apps that you can connect with ROUVY together with their status at the moment. We have a full section dedicated to more information on the topic.

SUBSCRIPTION

This section contains information about your ROUVY membership. More on types of subscription - in this section.

DOWNLOAD

You can download the ROUVY app for all different devices on this page.

LOG OUT

Click here to log out of your ROUVY account.
If something is still unclear, please feel free to contact us.